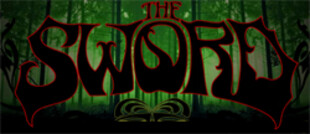 Once in a while a band comes along that is not only perfect musically but perfect for its time. The Sword not only delivered one of the best debut metal releases for years (2006's 'Age of Winters') but they did it just as the tide seemed to be slowly turning towards riffy, Sabbathy rock. Classic stoner type bands like Clutch and Down have started drawing huge crowds, Mastodon signed to Warner and acts like Baroness and Priestess have been hyped by the press. In the US some bozos are now calling this broad range of heavy psych music 'hipster rock'.
If anyone could lead a potential surge in modern, retro heavy music it's The Sword. From their immensely catchy riffs to the finely crafted lyrics and the tasteful, virtuoso playing, this band have everything going for them. With a second album due ('Gods of the Earth') and a huge UK headlining tour, Marek Steven spoke to their - typically confident - drummer Trivett Wingo...
About The Swords formation firstly, am I right in saying that one of your four members, JD Cronise, wrote the songs and the concept for the band before hand picking members?
"Yes, that's true."
And how did he find you guys?
"JD and I had played together years before in a Richmond Virginia band called The Ultimate Dragons so we were very familiar with each others' stylings. Kyle had been in an Austin band call Sea of Thousand and he was a well known shredder in these parts. Bryan, likewise, was a badass shredder that had been playing guitar in a band called The Pirates of Darkwater."
Do you think that process of formation might ultimately have led to a purer band than often is the case?
"It definitely did. There's nothing happenstance about The Sword. Swords aren't forged by accident!"
Do you all get stuck into the crafting of songs now, how does writing work for you guys?
"That would be getting too far into the alchemical secrets that empower our dark art. I'll just say that JD is the primary songwriter and writes all the lyrics. Kyle though has been contributing more and more and several of the songs on the new album are his."
What's it like breaking out of Austin? Was there a key moment early on when you realised you were onto something that could potentially get massive?
"Breaking out of Austin was the only way to become the band that we are. I don't think there was a key moment where we realized that shit was going to blow up. We've always seen the music as devastating and we've always been aware of its power."
You have SXSW Festival in Austin, does that have an effect on local bands? Was it a good experience to headline?
"SXSW is a steaming pile that I can't denounce with enough vehemence. A foul, reeking corporate ridden heap. Headlining in 2006 was such a pleasure that we collectively decided to never play SXSW again..."
What music inspires you, in the past and currently? One band I hear - and obviously it's filtered through a mutual Sabbath-vibe - is a little debt to Sleep, and Matt Pike's playing generally. Is that the case at all? It's certainly a good thing in my book!
"Sleep is an undeniable influence, but so is all great music and songwriting. Led Zeppelin is in my opinion the greatest band of all time. People tend to miss the Zeppelin influence, as it is more subtle. Perhaps JD would be better qualified to really answer this."
Ok, can you talk about the Led Zeppelin 'Immigrant Song' cover you recently released on a split with Witchcraft?
"We decided to cover that song on our first European tour as we were in fact immigrants and nothing could be more apropos."
Cool, so what are you thoughts on the recent Zeppelin reunion show and potential tour?
"I should be the one playing the drums. That's all I have to say!"
The Sword's lyrics are fantastically well crafted. I read that one literary source of inspiration is the writer George RR Martin. It feels like the first album inhabits a kind of perfect Norse/ Tolkien hybrid world.
"Yes!"
Ok, I better ask JD about that one too... but you must have been pleased with 'Age of Winters' album and its reception? How was it to work on the new album 'Gods of the Earth'? Are you excited about it?
"We are very pleased with the results of 'Age of Winters'. The new album was definitely harder to make, but in the end a most pleasing fruit. We are definitely excited about the new songs and can't wait for the album to come out to the great weal of the world."
I can't wait, I really feel you guys have the potential to be massive, is that something you allow yourselves to dream about at all? And is that one potential future you would embrace?
"We have no goals outside of music. We strive to make the best songs and albums that we can and deliver live sets that are fucking fatal! That is all we aspire to. If the desserts are fame and fortune, so be it. I have to admit that I would very much like to own a '70 Chevrolet Chevelle SS 454, but that is rather far off."
You submitted a great track to the fantastic Kemado Records 'Invaders' compilation. They seem like a great label, but are you wary generally of slipping into and being defined by a scene? Or does that not bother you?
"It is inevitable that the bird-brained assholes of this world will become obsessed with scene designations to the degree that their own fragile egos cannot exist outside of their abstract scene-identities. Very sad. No reason to waste time thinking about this."
You have a UK headlining tour coming up, how did you find it here last time?
"The last tour we did was with Clutch. What more could anyone ask for? Such a combination of talents amongst such fine people is very rare."
And you must be looking forward to this one. What should people expect from The Sword live?
"This time we are very restless and hungry for battle. We will make no apologies for reducing your city to smoldering rubble. 2008 is the new 1066."
The Sword's second full-length album, 'Gods of the Earth', is released on 17th March in the UK. A full UK tour follows from 25th March.
Look out for the 10" "Fire Lances of the Ancient Hyperzephyrians".