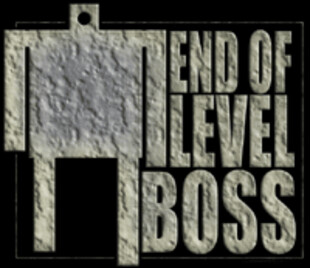 When news reached me of a new band featuring two members from the inactive British stoner heroes Hangnail, I had to find out more. Ever since I heard Ten Days Before Summer back in 1999, I have been a fan, and was upset by their apparent demise. So when I first saw End of Level Boss live (supporting The Atomic Bitchwax) and then received their Experiment EP, expectations were high. I wasn't disappointed. Retaining all the solid grooves that typified Hangnail yet with a distinct sound of their own, I had to find out more about End of Level Boss. ninehertz got in touch with Heck Armstrong:
'It all really started back in 1995 when me & Jimm recorded a demo under the name 'Collapse'. It was a 4-track cassette of prog-metal madness. That band split up not long after, at which point I joined Hangnail and a year later Jimm was in the band too. So Collapse was left for dead. Then in 2002 when Hangnail came back from their last tour with Cathedral, a couple of the band wanted some time off, and I'd been itching to resurrect Collapse so I figured that was a good time to do it. It turned out that the old members of Collapse weren't into it, so I just took the new ideas I had and decided to make an all-new band, mixing the fucked-up madness of Collapse with the more solid groove of Hangnail. I've always been a huge fan of stuff like Voivod and Confessor as well as the more classic groove stuff, so I figured it'd be fun to mix them up a bit. Kinda like King Crimson meets Kyuss! Anyway, on the day I found out that the Collapse drummer couldn't do it I saw an ad that Gareth had placed in a local paper as a drummer looking for a more progressive style band. It kinda seemed like fate, or maybe coincidence, but either way we started jamming and it worked. I'd already been jamming some ideas with Elenajane over a few beers, with no real thought as to being in band together, but once the three of us jammed together it just felt right. I got on the phone to Jimm that night and told him to dust off his Les-Paul. We needed his solo talents!'
'Not long after that we recorded a demo on my eight-track machine that we used to get a few gigs in local pubs & clubs. Then we got offered a couple of dates with The Atomic Bitchwax, which was amazing, and our name started to get around. At the end of last year some friends of ours in Germany offered us some gigs over there and the opportunity to record a full demo in an old warehouse that their band (Shepherd) were rehearsing in. It was the chance to combine a bit of touring with recording and a good drinking session! The end result of that was the Experiment EP that we're currently passing around. You can download it free from our website at www.eolb.com or pick up a cd at our gigs. It's a raw and very unpolished recording, and that kinda adds to the coldness of it all! It's a good example of where the End of Level Boss was at the end of 2003. We're working on a bunch of new ideas now that are finding a more definite direction and sound. The whole idea of this band is to create something a little different, but it's an organic process that will find it's own way. We're really chuffed with how it's going. We've got a bunch of gigs lined up - Keep an eye on our website for all the info, but we'll be playing with Blood Island Raiders, Jecano, Throne and I've just heard about a tour with Hidden Hand in the summer. That's gonna rule. By then we'll have all the new stuff ready. It's gonna be a riff-fest!'
What are your aspirations as a band? How far can you go? What does your future hold?
'I believe that if what you're doing isn't fun then it's all a waste of time. That's pretty much the basis for everything I've ever done. Obviously if End of Level Boss made enough money to pay my rent I'd be one very happy fucker, but all that concerns me is getting together with some good friends, cranking up the amps and making a noise. I just think about the riffs. I'll go where they take me! The best times of my life have all been down to getting in the back of a van with my guitar and heading off to meet new people to share a few jazz cigarettes and ales with. If the future holds more of that, then the band have succeeded. Anything else would be a bonus. It's impossible to say how far we can go. 99% of my favourite bands don't make a living from what they do, so we're just gonna have a good time and see what happens. The future's unwritten. It'll be whatever we can make it. I'm too ugly to be famous... although the Darkness seem to have got past that one!'
Lyrically, the EP seems very downbeat - with a sense of being held back prevalent...is this correct? What inspired the lyrics?
[img "/incoming/heck1.png" "right" "Heck Armstrong, EOLB
Live at the London Electrowerks"]
'Yeah, I'd say that's correct. The music is a lot darker than the stuff we did with Hangnail, and so the lyrics kinda reflect that. I think we're all being held back in one way or another. There's so much bullshit to wade through if you wanna do anything. It's getting so that we'll need a license just to breath soon. And the air quality ain't worth it! I could well go into a big rant here, but there's music to talk about! I guess it's all summed up by the track 'Words Have No Meaning' - Leave them all behind.'
Are there any UK tours imminent? You've got the tour with Blood Island Raiders coming up...what's your opinion of them and 'stoner rock' in general in the UK right now?
'We're adding dates all the time. We just wanna get out there and play. Blood Island Raiders are a great live band so we're looking forward to those dates. They're a good laugh too, even though only 2 of them drink! At least the beer will last a little longer! As for the stoner scene, I think it's easy for a lot of bands to be unimaginative. But that's the same in every scene. The bands who are inventive with their riffs will stand out and maybe give the press something new to add a tag to. Bands don't have much time to grow over here. For a bunch of reasons - from record companies wanting instant sales to band members being too skint to pay for a rehearsal room. I think that has a lot to do with the whole US/UK difference thing. US bands tend to practice in their garage or basement, or even the middle of the desert! You don't have those options if you live in a council flat in Peckham. But even so, there's no room for excuses. Just riffs.'
While this is possibly a predictable/boring question, it is one I feel many people are interested in hearing the answer to...what happened to Hangnail?
'I don't find it boring all. I'm chuffed that people want to know. It means we did something right! In theory Hangnail still exists. A couple of the guys have kids now so I think that's, understandably, more important to them. I write most of the music and I've got a bunch of ideas for a third album, but I don't wanna do it unless everyone else wants to. I'm not gonna hassle people into doing something they're not 100% into, as it just won't be any good. I've thought about getting other musicians involved, but Hangnail is about those same four fools in a room having fun. It wouldn't be the same with a different line up. It would be End of Level Boss!! Heh heh.... Maybe one day the planets will align and we'll get back on that fucker!'
Interview by Pete C.
Thanks to Heck Armstrong and End of Level Boss.
website: www.eolb.com
email: info@eolb.com
Link: Experiment review