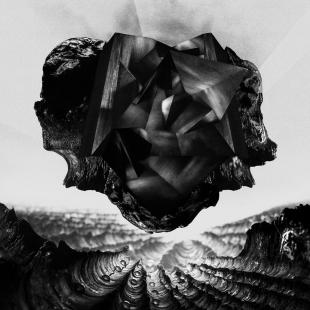 Constrictions breed innovation. Pressure builds invention, heck, even Dystopia had a song called Stress Builds Character. Enter the esoteric and unnerving Farer then, and their two bass players with no room for a guitarist at all.
The result of two years of writing, the dense, dark and heads-down concentration of Monad is one of those deep, black holes you enter into and have to claw your way back out of. We recently played opener Phanes on our new release podcast and to try and explain this sound was challenging, but as is our habit, that can only be viewed as a good thing.
Take that opener for example, which moves through its choppy 13 minutes, cramming in so many obtuse, yet linked passages that it feels both welcoming and claustrophobic at the same time. Like a venus fly trap, the temptation is there, but once you're in, you have to deal with the consequences.
The three-piece don't rest upon the dual-bass sound as an identity, rather they squeeze every molecule of creativity from those eight strings. Phanes on its own is a schizophrenic beast, all comely choir sections and harrowing screams that capture the loss of black metal pioneers Weakling as well as the white-hot frustration of Steve Austin at his most caustic in Today Is The Day.
This is all accompanied by subtle electronics and a plodding, inescapable groove that sits among several uncanny elements and somehow... works.
A pulsing that wouldn't be out of place on a noise record signals the equally impressive Asulon which could easily soundtrack a slasher in space. If a record could sound like existential fear, then Monad certainly comes close.
Hints of the repetition that made bands like Black Shape of Nexus such an irresistible proposition a few years ago is present here too, though Farer hit you with sheets of sound not unlike the best black metal Norway could hope to provide. Crashing back in is like blunt force trauma at times and that palpable, hair-raising quality is here in spades.
We could pick apart the density of the rest of the four pillar-like songs on offer here, but there's much to be said for just immersing yourself, submerging your senses in this incredible record. There's more to find each listen and the roads it wanders are rough-hewn and spiky.
Approach with some caution and a cheery disposition. This is draining, vital stuff.