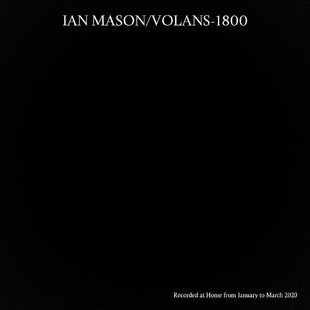 A creeping sense of dread. That's what life is right now. Perhaps apt then for a record to arrive right now without much explanation to accompany that.
Ian Mason's stark 'Volans-1800' is a minimalist, drawn-out study in tone, texture and dark beauty. Not content with giving any context away, the record feels both anonymous yet familiar, evoking a subtle, restrained feel throughout its 40-minute playtime.
Singular drones float endlessly into the horizon while other sounds, orchestral in nature at times duck in and out of view as this contemplative, wandering record follows the curve of an empty planet. Parts like these recall the monotone, isolationist vibes of Birtchville Cat Motel before the project morphed into Black Boned Angel.
At times this evokes the astral and pastoral feel of pioneers of the genre like Barn Owl, at other times the industrial sci-fi menace of antagonists like Necro Deathmort. Whatever Mason is setting out to do, the uncanny and wavering nature of this composition is certainly a ghostly wonder to behold.
One of several releases in the past year, Mason's work should be paired with isolation, deep listening and preferably, headphones. Put aside some time and enter a new headspace, this might be the escape we all need right now.