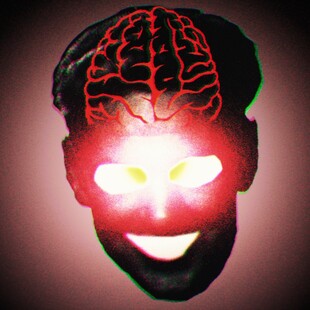 Sheffield's cosmic grunge heroes Awooga return with the product of a studio session with Amplifier frontman / Rockosmos label boss Sel Balamir. In a deadpan style befitting of their Yorkshire roots, the EP is simply called Session. Rough, raw, aggressive and downright hefty – these four short tunes pack a mighty punch, but one poured from a different bowl to what we're used to: written in the early years of the band's now blooming career, these songs have been granted a new lease of life.
Opener CNF (which some may remember from a little heard release some ten years ago) sets the tonal and structural blueprint for the record; in keeping with the session-based vision and constraints, each track begins with a hi-hat count, establishing a live presence. When asked what CNF stood for, drummer Taran Ali echoed recent Boss Keloid sentiments by explaining that it means "whatever you want". I'm going to go with "Chronic Northern Fury" as singer / bassist Tam Ali really lets his vocals rip through the haze here.
A motif that really blossoms over the course of Session – and is particularly present in centrepieces Headrush and Muff Pump – is that of the huge, odd-timed opening riff which yields to a more innate verse groove. Comparisons to Tool and Deftones have always shadowed Awooga, but to label them derivative would insult and negate their pulse-raising energy, which was only ever sparingly harnessed by their 90s forefathers. The hand of the omnipresent Sel Balamir is certainly felt on the former track, with a sustained "wah" solo line that wouldn't be out of place in an Amplifier anthem.
Closer Troll begins with guitarist James Borrowdale providing a diegetic cue of "go on, Taz!" before leading the band with one of his more nimble guitar licks. The sound is deep, rich and familiar – his monstrous tones are boosted with crystal clarity and rock solid heft by the group's ever-reliable mastering maestro Iago Lorenzo; open-ended and never over-compressed, the record sounds better and better the higher the volume.
Over before it starts, Session is a worthwhile addition to any Awoogan collection and, while it doesn't sport the finesse or maturity of their 2018 debut album Conduit, it channels and vents the group's energy into what feels like a healthy and hopefully beneficial emotional release.