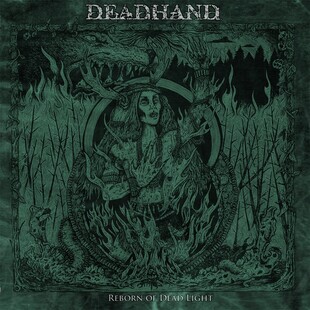 Dead Hand came to our attention with a single track on a split 7" with Shroud Eater, and as commented back then, I've been wanting to hear more. That time has come, with the monstrous four track Reborn of Dead Light.
Alabaster and Bone sets the tone, a weighty slow sludge sound, heated in a Grave Lines like boil, reducing to a simmer between these graven peaks. The vocals at their most guttural give a toad-like croak under the strain. It's all fine, in a Keeper style, but feels a little stale, until the momentum charging tremors quicken six or so minutes through, an outburst of light exhilarating there from. It is worth waiting for.
The title track begins with more bottom of the well doom dirge drawn again over ten minutes. It goes weirdly folky as it drops in intensity, a gothic doom rebuild, the keyboards so subtly and well used on the last track here supplementing a near death metal-Type O Negative atmosphere in the song's odd second half.
A less than four minute track feels like a breather from the dense pressure so far applied, the mellow intro lightening the air, even though the meandering sub Paradise Lost vocals don't really impress.
It unsurprisingly is made up on the elongated final track, Amaranthine. The sluggish pounding riff returns us to the Graves at Sea world of the opener, a blackening shroud of doom. There is a post-metal styled gentler middle, a poignancy of unknown origins felt through the endearing sounds. A growl and sharp shard riff noise interruption signals its end. It closes with four minutes of creepy noise.
A lot of this is close to its peers and thus can be heard elsewhere, but there are little flourishes that give Dead Hand it own small niche, the keyboards deftly used definitely one of them. It arguably loses its way a little in the middle, but then also it would be wrong to dismiss tracks that give variance. No, Dead Hand are on to something here, and while I may return only to the more obvious doom opener, it is in their wider range that gives them an edge.