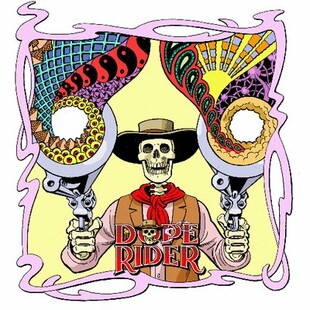 Some bands just plough their own furrow. Unencumbered from the expectations of those around them, they create something akin to originality.
With this review, we could expound how rip-roaringly heavy this latest release from Sheffield's Kurokuma is, but would that be a disservice? At the time of writing, perhaps.
Kurokuma seem to be their own masters, splitting the sludge and doom atom and creating something akin to prog metal via tribal pounding and a DIY attitude that might seem lacking in stoner and doom circles at the moment.
We've previously praised Kurokuma for their originality and almost rejection of the lazy tropes of the genre in which they find themselves. This continues with what might be their most creative idea yet.
Written and released as a concept EP with fully-licensed artwork from Paul Kirchner, it is based on the Dope Rider strip from High Times in the 70s.
The second part to Dope Rider has lyrics based on a specific Dope Rider story, and that whole strip is printed in full on the lyric sheet insert of the vinyl edition (limited cassette tape and download versions are also on sale). You can find out more about Paul and Dope Rider here.
This could also perhaps be a sly dig at the weed and 420 bro culture that has somehow flooded the genre again in recent years, that's where the tongue in cheek element ends.
Just 13 minutes long, this sees the trio at their most psychedelic. Under the down-tuned, pummelling and rasped screams from frontman Jake and bassist George, there's a tension and heft to proceedings. The slow-building intro to Dope Rider pt1 before it bursts into laser-targeted metal has rich percussion at its heart. Once the vocals do kick in, it's akin to a desert wind, stinging your facial features.
The lyrics here follow a more fantastic and whimsical bent than previous releases. They take the comic strip's anarchic style and convert them into abstract images, screeched with conviction. You can already imagine it taking people by surprise live, especially the subtle percussion that follows.
The second, and more rounded Dope Rider pt. 2 has much in common with the excellent Slabdragger, whose Sam Thredder recorded this effort at his studio, The Cro's Nest. The sheer volume of the band's live show is captured here, but clear as a bell.
We've said before that Kurokuma can smell fear.
With this release they are holding up the bloody heads of their enemies. On horseback.