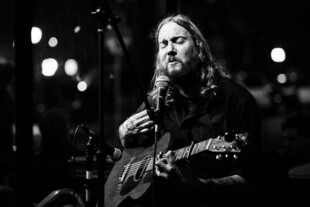 This is actually Podcast 8, not 7 as I incorrectly intone at the start of the session.
Tim Holehouse is one of my oldest friends in the music scene, he's been a ridiculously prolific artist since the 90s, has been in various bands including Schema, Soon The Darkness, Among The Missing and Naked Shit, but for more than a decade has played mostly solo and collaborating and touring with dozens of artists from around the world. His travels have taken him across the globe and I managed to pin him down to about an hour when he stopped by Lincoln again recently on a spoken word tour he's been doing ahead of a book release this year.
Tim picks mainly tracks he's on, but also talks about his favourite band, the inimitable SWANS.
Tracklist is:
SWANS - She Lives
Among The Missing - Ten Pounds of Fuck
Tim Holehouse - Vessels That Sail In The Night
Tim Holehouse - Broken Bones
Tim Holehouse and The Tourette Boys - The Incident
We talk a lot on this one, so the bed is a smorgasbord of stuff, in order:
NADIR - Antennae Collapse
Melvins - Flamboyant Duck
Moloch - Repulsion
Workin' Man Noise Unit - Yeah I Was Hypnotised
Colossloth - Of Talons and Teeth
Pijn - Blush Unseen
Hundred Year Old Man - Disconnect
Ba'al - Days of Yore