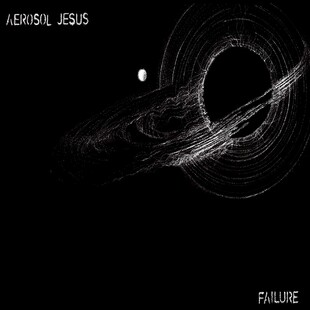 Failure, the debut release from Brighton's Aerosol Jesus has been sent to us by Astral Noize, a print magazine and blog now venturing into record label territory. Not familiar with the zine prior, I lose several hours of reviewing to perusing their site - it is excellent, with some fantastic articles - check them out.
Aerosol Jesus create a noisy racket of some point equidistant from sludgy post-metal, heavier-end hardcore and screamo, with a keenness to experiment even within a wide spread base of styles. It makes for a listen that is endearing from the off and consistent throughout. Comparisons might reference Kalloused, Solleme or Cowards.
The first of four tracks, Legacy is ponderous for its first couple of minutes, then a slow burn post-metal atmosphere, screech and tone; a couple minutes more and it explodes into a huge hardcore blast and destructive metallic bomb riff. After a patience testing beginning, this is something, maybe not delivering wholly but certainly promising, and worth the wait.
Release long, there are common, unhealthily addicitve eruptions of guitar weight. After the Deathwish styled intro of The Inbetween, the sludge riffs detonate again. It swirls into slowed doom lurches, the heaviness welcome, yet its arrival signals the end to any exploration the track hints at in the beginning. It's not the only time this occurs on the release.
It is perhaps best managed on the closing Lurch Leech Grasp, starting in the heavy so all developments already within that context, the chaotic bluster in the ensuing darkness, a Hexis nature within.
Failure sounds, feels amazing, they tune to a level perfectly attuned to my ears. Yet they never truly develop it into outstanding songs. It's a shame, as I am willing it to succeed. It's still worth your listen, it's still great, and there's a real sense, obvious at first listen, that Aerosol Jesus can become an essential blackened hardcore force in the UK.