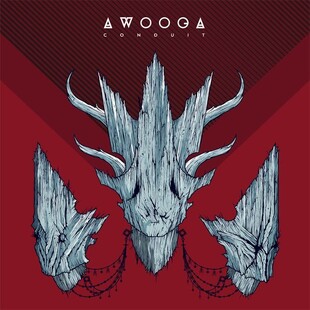 Sheffield's Awooga are somewhat of a quiet success. I say quiet, but their live shows are some of the most blisteringly loud that you'll witness in the Steel City.
A three-piece that take nods from Tool, Alice in Chains and other distinctly 90s influences, they eschew those comparisons with a dose of good old fashioned originality. Conduit as an album title apparently refers to the competing sides of consciousness and the 'conduit' through which thoughts and decisions are made. These songs are said to have been created with unbridled creativity, with no pandering to expectation.
This is clear from opener Temporal right away. Psychedelic as well as deeply focused, the track winds a hypnotic riff around a beautiful vocal line and you can't help but be swept up. These guys have been a unit for years and you can tell. Bass, drums and guitar collide in a very appealing way from the start.
Witness the electrifying Tabula Rasa for some stoner rock influence, the ghost of desert rock and 90s alt rock colliding to give a pleasing groove you'd find a lot of bands would kill for.
Lead single from this record, Waterhole takes this stoner influence a bit further. Laid back, but effortlessly heavy too, it showcases what these guys do best. It shifts between two clear sections that both sound like catharsis. Deeply layered and ethereal, it also kicks with a fair stomp too.
Things slow down somewhat for the more restrained Blue Rose which has a more shoegaze feel to proceedings. Delicate and more ghostly, it allows the trio to show off some different shades. Perhaps the most beautiful track on here, it also gives the production values some more attention. Awooga work in subtle dynamics, never knowingly brash or pretentious, the album's sheen suits them down to the ground.
The album's centrepiece is the ambitious and epic Witness which charges through passages that you can imagine have a significant impact live. The subtle shifts in tone showcase each member's skills and the multiple payoffs during the 11 minutes jut keep pushing the ante up further.
If Sheffield is in need of a heavy band to represent them on a global level, Awooga should be put forward. This is huge.
You may have recently caught the chaps on their UK tour, supporting Amplifier. They are now heading to Europe too, get to know them before they take off completely.