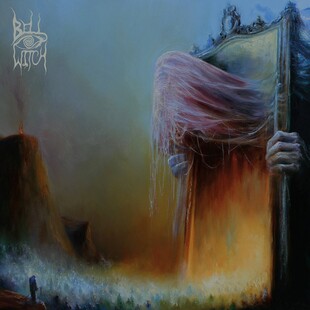 It would be hard to write a review of Mirror Reaper without reflecting on its running length. At eighty-three-minutes long, and the fact that it is a singular track, Bell Witch certainly seem explicit in their wish to test the listener's resolve. What makes their third full-length so extraordinary is that despite this it is an album that I have found myself returning to for full listens again and again.
Bell Witch have, almost since inception, been an act exceptionally well regarded, supported and critically lauded. Their previous two full lengths, 2012's Longing and 2015's Four Phantoms are rightly credited as reinvigorating doom in all its guises. Forget Pallbearer, these guys are where it's really at. Both of those albums reflected on the inevitability of death in a way reminiscent of Greek, Roman and Norse fables, but without the pesky religious nonsense thrown in. In 2016, Adrian Guerra one half of the duo, left the band. Suddenly, not long afterward, Chris Bruni, label head of Bell Witch's long-time label Profound Lore, announced Guerra's passing. He was 36 years old.
Guerra was actually involved in the early stages of writing the album, which makes it all the more poignant. On Mirror Reaper, remaining member Dylan Desmond (bass/vocals) and new addition drummer/vocalist Jessie Shreibman pay homage to their fallen friend. The duo was more or less forced to deal with Guerra's death in the public eye, so loved was their collaborator in the wider music scene, and such is the interconnectivity of the world right now, even in the underground music community. Faced with this, the only way to truly exorcise the pain was seemingly to pour it all into the writing and recording of the new album.
Although presented as one long track (and it really is, and it works magnificently), the band have acknowledged that there are two distinct passages, and have dubbed them 'As Above' and 'So Below'. The moment you know you're listening to one of the albums of the year, and something emotionally wrought and creatively magisterial is when these two passages cross. Like when the clear and silt laden different forks of the Amazon join and are briefly distinguishable, before they consume one another to form a single new entity, this crux of the track kicks you in the teeth, as from the depths Guerra's voice emanates posthumously. These vocal recordings came from unused tracking for Four Phantoms, and beautifully tie the past to the present, and to the future of Bell Witch. No funeral doom has ever before caused me to tear up. Perhaps it's because I know the back story rather better than someone discovering the band for the first time, but this is an emotional tour-de-force, as good as any beautiful art-house film you might recall.
Desmond and Shreibman have done their friend proud, have cemented Guerra and Bell Witch's names alongside their own in the tapestry of the very best doom ever recorded, and provided 2017 with an album of the year irrespective of genre.