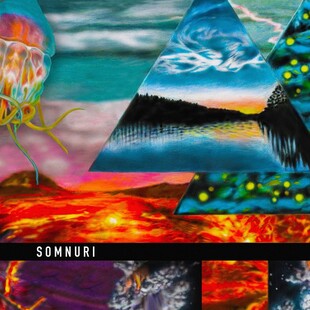 The Brooklyn trio that make up Somnuri, members of bands past and present including the most noticeable name of Hull, produce a nifty record that feels both cosily familiar, yet fresh enough for any reminders to not be too much of a hindrance.
Kaizen opens affairs, the airy freedom of the rhythms reminiscent of Baroness; it starts well if hardly invigorating the pulse, but improves, turning into something more engaging, without doing much different, as it warms up and forges onwards. Inhabitant impressively morphs between thoughtful vocals over grand, progressive doom guitar, and then galloping forwards on the crest of the riff and a blackened edged vocal change.
The faster pace and harsher vocals of Same Skies cast a heavier shadow, charging into High on Fire fields of war. It is great. In contrast, the following track is slow, wistful, tuneful, swaying along on the guitar, on the aptly named Slow Burn. While piquing interest to begin, it tires quickly, up until the Motorhead/HoF spirit-infused headrush forward latter on.
There's the straight forward Mastodon-ish Welcome to the Stranger that is decent if a tad generic, and the posi-vibes of Floor of the excellent closer Through the Dead that end the album on a real high, and with a satisfied smile.
Between the pillars of the American scene that never truly coined a genre term - post/ progressive/ metal/ doom/ sludge? - of the bands mentioned above, of Cavity, Torche and Kylesa, you'll find all reference points here, nothing particularly new. But nowadays in particular there's definitely scope for new blood, and if it is executed as well as here, then there'll be an appetite for it to match.