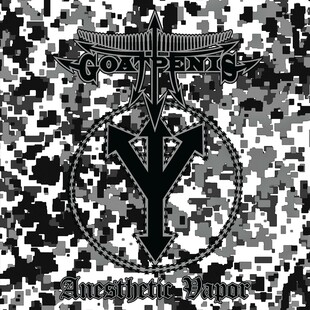 There are no names left for bands, Goatpenis have ben going around 25 years and they already had to tell their parents what their band was called, cannot invite office colleagues to gigs and have to gingerly approach customs when carrying t-shirts on tour. With a name like that, you'd best have the material to back it up.
Of course, these Brazilians do, from the off it's incredibly fast, crust-esque black metal and comes complete with a heads-down, evil attitude. Lyrics here are concerned with the imminent death of man. Not a new subject for the genre, but one in which you're invited to wallow in here.
The vocals are incredible, part Christopher Lee cod-horror, part black metal rasp. Snaps of reverb and delay give it an 80s thrash feeling as well. Tracks clatter by in dark, stormy clouds and it's all rather overwhelming. The only peace here is whether the drummer adopts a menacing militaristic beat rather than a constant blast. This is war metal, like a snarling, frothing dervish thrown over the agreed lines of conflict and harvesting souls as it goes.
The notes that accompany this release say the band have a lot in common with fellow countrymen and legendary black metal pioneers Sarcofago but when the band sound this furious it is hard to compare them with others. The relentless march towards war they paint here is reminiscent of the peace/fight aesthetic that Mayhem brought forth on their divisive A Grand Declaration of War but with none of the conceptual mire that came with it. Truthfully though, it has more in common with the abrasive attitude, if not sound of prolific electronic outfit Vatican Shadow.
This record belongs in underground bunkers, in attack helicopters and in the ears of warriors ready for battle. If there's a more apt label to handle this band than Nuclear War Now! Records then I haven't heard of it. If you like your black metal primitive and with a touch of the old school, then Goatpenis might be the answer to your crusted denim dreams. Just don't wear their patches to church yeah?