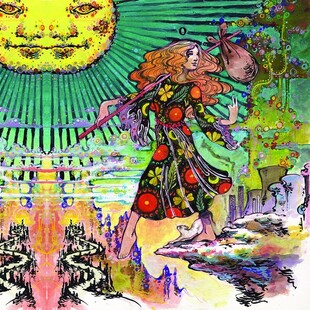 If ever there's a term in a music review that's guaranteed to make me shudder and wince, it's one which combines and legitimises a combination or mid point of stoner and grunge. It nearly always means "grunge" but trying to sound cool and slightly more up to date than mere Ten recollections. And here I am going to use it, and not only that, in a positive manner. The opening title track here is stoner/grunge. It has definite Stone Temple Pilots, even Blind Melon flowing vibes, the vocals reminiscent in Seattle-sound but thankfully not overblown. What makes it not only listenable but undeniably attractive is the psychish air that pervades and gives it a hippy trippy happiness that is infectious.
You can practically smell the plumes of Nag Champa vibe that emit from London's Derelics all the way up here in Sheffield. You conjure images of tie dye, flares, hanging rugs on the walls, of pot and hipster revelry. I don't say this to condescend - I'm as likely to be wrong as right anyhow - you can just sense a band in happy space that encourages musical creation.
The EP continues with The Summer Song (Back to the Garden). The track title forces reminders of an excellent song with pretty much the same name by Biblical Proof of UFOs, and the similarities don't end there, but I'm in tangles working out if I'm only thinking of them due this or if its legitimate comparison. It is less grunge, more free rhythymic mind expansion similar to the paths trodden recently by Baba Naga. It doesn't really do a great deal across its eight minutes, the weakest link in the trio of tracks, but then with its guitar playfulness jamming through the purple fog that's presumably the point.
Final track The (Wicked) Witch is Dead exists somewhere between The Black Crowes, Jane's Addiction and Hendrix's looser ends. Not for the first time, what I sense I shouldn't like, what my brain says should sound terribly dated, instinctively wraps around my head and gets me dancing; I admit as much as I submit to its charms.
It isn't perfect but then it doesn't matter really, it floats on its own high and it would be churlish to criticise that. Yeah, preconceived expectations of what is and is not relevant get fucked. This is stoner/grunge in 2017, and it is cool.