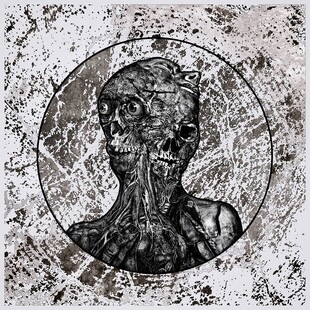 Two bands, one known one new, two continents, three songs, one seven inch. Michigen's Dakhma return welcomely quickly and pair up from French newcomers Pilori, on a tasty split release, due out on vinyl in the near future.
Dakhma's one track covers six minutes, brief by the standards of their glorious Suna Kulto album. After a minute and a half of build, this opens into the sound I've come to love so much since discovering them - headrush forward propulsion; tinny, buried black metal guitars and drums overlayed with impassioned vocals, all drawn towards you with a post-black and hardcore inflection that gives it an emotional pull. They've been busy, the full release of their album and tours (including with the UK's Dawn Ray'd) down already this year, but there's plenty in the tank, as this demonstrates.
Pilori have only a demo behind them, but stand up here appropriately. The first of their couplet is Via Crucis, hardcore from the direction of its darker corners. There's a might metallic riff in the middle, amongst the angst. Le Baiser has a breezier opening, that masks the restraint it holds, so that when it bursts out in shimmering blackened metal it does catch you unawares. It turns into nasty hardcore by its end, a brief but wonderfully spiteful two and a half minutes.
Dakhma continue their fine work, wrangling their formula of combined styles to their will, to create beauty where there should be none; a mesmeric band to follow right now. Pilori present themselves well, with a brightness illuminating their future, yet another French band to keep tabs on.