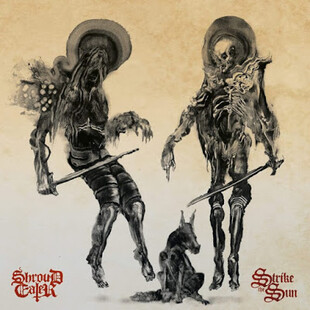 This is my third outing reviewing Shroud Eater, their demo and a split before this bringing favourable reminders of Kylesa, but always a little too closely. Yet I'm instantly drawn to this in amongst our reviewing inbox - they haven't hit the heights to date, but there has always been the scent of potential in the air of everything they've done thus far.
It is clear, pretty early on, that the earlier criticism is now defunct. This is a bold record - Shroud Eater have branched out, flowering nicely. It is evident from the first track proper Iron Mountain - brash metal bravado, full of Conan (fictional character) or Tolkein-esque lyrics, it is very (very) High on Fire. While hard to shake the comparison, it is undeniably great.
It is a reminder that you go back to at times, particularly towards the albums ending, but importantly not the only one - Awaken Assassin, for example, brings in Acid King reference points, but with nods to the progressiveness of, yes, Kylesa, but also the blunt barbarianism of Conan (non-fictional band), who further pop into my mind on the seriously doomy It Walks Among and Futile Exile.
The Miami trio have moved away from the singular source of inspiration, now replaced with several strands of influence, all admittedly fairly obvious to anyone with ears on our scene. Yet the divergence, that spread of sound has unlocked the aforementioned potential, expanding their horizons, giving them a grandeur previously lacking.
The concept is stretched a little thin, but there are definite highs that override that concern. Strike the Sun is an album that is undeniably fun - and while that may seem an inappropriate tag for a doom heavy riffing monster, it is an honest and accurate reflection, one which many others will share should they give it chance.