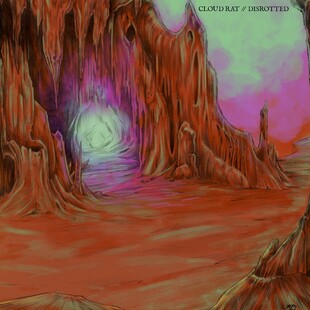 Serial relationship junkies, jumping from one half of a split release to another, not happy unless in the embrace of another, it is heartwarming to find Cloud Rat and Disrotted have found each other, a smile-raising parable. This tendency, and the prodigious release schedule of both perhaps then made this inevitable, but also marks this a special coming together that warrants your attention.
Cloud Rat's Holding the Picture is a single eighteen-minute so labelled 'grind' track... unhinged vocal and percussion cast in a wary atmosphere, it reminds me of Rwake's disturbed psychedelia phases, if only a touch. Six minutes in, there's a stylish post-hardcore break; the minimal passages that follow feature vocals so grim, and with what sounds like a swinging rusty gate creaking in the background, it's in the black metal playing fields. Then there's the doom-paced sludge riff ten or eleven minutes gone, and from there out it is post-metal mixed with the faintest edge of atmospheric black metal if anything - the track by now feeling like a play of many acts running without intermission.
Is it time we stop starting off from the basis that Cloud Rat are a grind band? Probably... it's only as relevant as any other of the myriad genres attributable to their phenomenal sound, so therefore misleading from the outset and giving a disserving first impression. They're in their own magnificent world, and we're all the better off for it.
Disrotted push things further - Dissipate a round 23 minutes given to explore. Death doom - slow and then slower, it's obvious that they're intent on dragging you through their own imagined hell early on, no forgiveness, no relief. The drugged funeral pace transfixes, it allows the mind to wander but only within its morbidly depressing mood parameters. The death vocals echo as if emanating form an unseen corner of a cave. This may be the best analogy all round, the output of cramped and uncomfortable pure darkness, the lack of all light retarding its evolution, leaving it ugly and scarred.
Further proof of core tenets - that Dry Cough and Halo of Flies, the cross-Atlantic labels involved here, rarely put a step wrong, that Disrotted are a fearsome belligerent test to anyone who truly claims to love the darkest waves of doom, and that Cloud Rat are one of the truly special bands, that can turn their hand to anything.