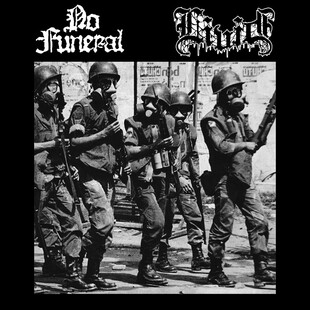 I love releases like this, a split between two bands previously unknown to me, linked through shared locality and a label looking to expand the audience of their local scene. Here No Funeral, Livid and Live Fast Die Records offer a glimpse into the doom of Minnesota.
No Funeral cut their twenty minutes across two tracks. Infection's slow deathly crawled intro immediately contradicts the band name - funeral doom goodness. Yes Funeral. Half way through its eight minutes guttural vocals appear, steering the ship to sludgier waters, the pace only picking up a couple of knots, the overcast cloud generated indicative of an impressive doom package, albeit largely missing anything unique. Disease Brought By Depression is more Coltsblood-like marches into the abyss, here getting slower and lower, until some filthy old school death metal riffing spices things up seven minutes in. It is a welcome reinvigoration to refresh the palette in time for the desolate ending.
Livid offer only False Hope, epic evolving doom. A long, forbording journey lays ahead, eighteen and a half minutes, slowly tread to begin. The lead in is laced with gothic aura, there still a minimalism to proceedings when the vocals enter, it all part Paradise Lost, part The Cure. The atmosphere becomes charged, the subtle but steady increase of activity points to post-metal tension building. It never realises as such, eighties post-punk goth amid doom fog imagined in its place, Pallbearer meets My Dying Bride; slow and grand.
Livid's debut album is out soon via Prosthetic, it is now a must hear, whilst whatever No Funeral's plans entail, I'll happily keep tabs on. There's little new here, but it's pretty enticing never the less, this release succeeding in shining the light on a scene, and two more bands, for us all to follow.