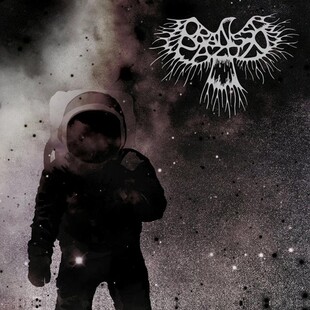 I can't recall what first lead me to investigate Valonielu, Oranssi Pazuzu's third album, but I can't forget the experience... otherworldly, wildly innovative and creatively inspiring of my imagination. It was unlike anything else I'd ever heard. Then last year's Värähtelijä arrived, improving and enlargening that base, a monument of psychedelic black metal bewonderment. Yet despite growing, global recognition of their artistry, a realisation that this is one of the most important bands in extreme metal today, their earlier works remained difficult to locate. Thankfully, Svart Records and 20 Buck Spin do us all a favour in reissuing their first two albums and an EP from between.
Muukalainen Puhuu (2009)
Having now been exposed to the full catalogue, what is clear is that Oranssi Pazuzu have always been pioneers, always unafraid to be different, that this hasn't just come with time, experience and maturity. It is evident straight from their debut, Muukalainen Puhuu. Korppi opens, guitars shimmer, ghostly effects haunt the background, the raw vocals burn through the atmosphere. It is eerie, fidgety and utterly mesmeric. This is their first track on their first album and they were already harvesting in a field of their own. Kangastus 1968 is part jazz lounge (on a Scandinavian black metal album, remember) and part a fucked up horror story reimagination of fairground rides, their bizarre organ drones contorted into a fearful menace.
They are happy to play with long periods of noise, or introduce noise-rock arrangements, such as on Myoehempien Aikojen Pyhien Teatterin Rukoiljasirkka, with black metal roll and bark atop. The striking bassline of Dub Kuolleen Porton Muistolle, with wind instruments joining the backdrop, tell a strange, gothic post-punk story. The album is eclectic for sure, but the disjointedness is experienced not as a distraction but as purposeful direction. It is a bewildering debut to comprehend.
Farmokologinen (2010)
Next comes their input into a split with fellow Finns Candy Cane, the four tracks repackaged into a sub-half hour EP named Farmokologinen. This is more direct. Ole Muukalainen is forceful from the off, faster paced, the effects and buzz of the guitar building toward a cacophonous room-shaking adjointment. The synth is verging on new wave reminders, more so Unihämähäkki, where the wiry guitar lines and shredded vocals sit upon 80s synth and space noises. There's a potential future parallel to Okkultokrati's Raspberry Dawn here, but this is run through a sonically-massive psychedelic filter as opposed to being driven along on punk verve.
Torni's theatricality is hit and miss, although propelled intriguingly by organ, but the closing Farmakologisen Kultin Puutarhassa is fantastic. A crazed riff circles overhead, as if a tornado homing in on your residence. Farmokologinen translates to pharmacological, which is a blunt and accurate descriptor, the EP a whirling trip that takes a time to come round from.
Kosmonument (2011)
As Kosmonument begins it is evident that we're closing in on the timeline towards Valonielu, a slight twist in the sound, that cosmic yet robotic rhythm finding its feet - Sienipilvi starting not unlike Tyhjä Temppeli. It creeps in atop space effects, the croaked black metal vocals so slow as to be pretty much spoken. It sends your head into a swirl, and lurks with threatened but leashed menace. There are the by-now expected myriad range of sounds in the next three tracks, accompanying weirdly upbeat noise-rock angularism one moment, off-kilter drone the next, elements that sound mechanical, always with the usual black and psych, always unsettling.
There are a couple of crackers there on, Maavaltimo the first; immediately intriguing, synthesised weirdness, it exudes an unusually sourced heaviness merely by shrouding itself in darkness. As it all changes up midway through, it further reveals itself as truly bonkers, yet undeniably excellent. The other is Loputon Tuntematon, the most typically (atmospheric) black metal they've perhaps ever been, it is wonderously immense. In between is a tad fallow, indicative of an arguably patchy album, but the heights achieved at its shining best dismiss all but the most thorough of criticisms.
There are plenty of moments of warped brilliance across these releases, showcasing a band not only divergent in their journey from any of their peers, but one who set off from the start with an altogether different map. The culmination of theme and ideas may have only come together in perfect artistic vision from Valonielu onwards, but these three records at the very least point towards the potential to achieve what they went on to do. And more than that, their stand tall in their own right, albums so distinctively different from every other band anywhere, each deserves its own recognition.