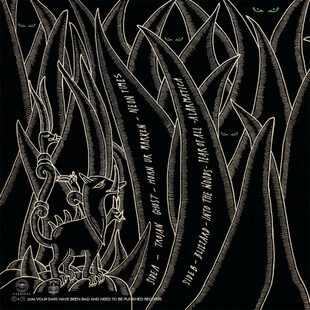 Psyche is in rude health. There's tons of bands doing the blissed-out and trippy thing at the moment. The Janitors, who first came to our attention through the excellent Evil Doings Of An Evil Kind in 2014, are back with a new record and it's fuzzy business as usual.
Starting of proceedings with an eastern-sounding scale and a layer of static, it's clear the eerie vibes contained on their last release have been captured again. The slow-burn of their tracks brings to mind darkened rooms and a threatening atmosphere. The ever-present tick-tock of percussion sounds not unlike an atomic clock, counting down to extinction.
The vocals this time hold a strange fascination. Lyrics talk of 'counting backwards' and the wholly uneasy tension in the songs only adds to the uncanny feel. When the guitars kick in partway through the lumbering and deliberate title track, it's truly spooky.
This aesthetic is continued in tracks like Neon Times which takes a more direct approach than others. Bursting forth with a more verse/chorus structure, the shimmering guitar tone really comes into its own here. Brash, distorted, but remaining subtle even in the more extravagant sections here, it stands alone as a defining element of their sound. The plod of the drums, infused with additional flourishes really gives it a 1970s feel. This is one for evenings of decadence and self-exploration (if indeed you need a soundtrack).
What makes The Janitors really stand out however is the layering of their menace. From a detuned-sounding intro to Into The Woods for example, they build to a noise so cacophonous it threatens to tear the roof off.
This is a record to immerse yourself in, plunge your head below the surface and really see what's going on.