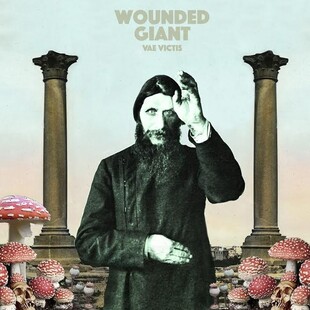 Preconceptions of Wounded Giant, from lairy band picture and press bio, to listing Hawkwind, Stooges and Thin Lizzy as influences, are misconceiving. There is more than meets the eye to the Seattle trio, not the simple punk n roll generic stoner you might think. The Billy Anderson produced Vae Victis quickly confounds, then, as it develops, flowers into something quite special and unique.
The title track begins, and gives the impression of doom played by noise rock punks. There's plenty of grit, but with a satisfyingly corrosive doom tone. It's an impressive make up, although there's not really enough invention to justify its nine and a half minutes. No matter, as the middle of the album is where Wounded Giant truly shine. It begins with Dysthiest, stylish doom that takes its time, but keeps getting better, through to a raucous end, and calls of "all hail nothing!". Scum of the Earth is the best of the lot, a battering ram riff opens the doors, a fantastically heavy entry into a great concoction of ominous doom overhanging clouds and punk bite and propulsion.
The quality continues through The Room of the Torch and Green Star, each track given time to build, never directly, so you don't notice the subtle construction of an encompassing atmosphere. The longer than average tracks make sense where the opener did not, the endings giving time for psychish notes on occasion. It ends badly though - maybe I'm missing something, possibly mishearing, but whatever the true meaning of Monagloid (sic), the repeating lyric "mongoloid, he was a mongoloid" sits uncomfortably.
It's unfortunate that the album has to end of a sour note. In the middle they carry a maturity into their doom with that noise edge, one that sits somewhere between, somehow, the mentalities of Pallbearer and KEN Mode tackling a stoner sound. Wounded Giant are easy to underestimate, as heavy rock throwbacks seeking a good time in bowing down in honour at the feet of Lemmy, Ozzy and Wino, and you'd suspect they'd be happy with that, ready to spring the surprise that there lies some genius here.