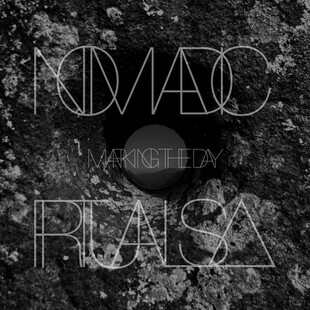 Marking the Day , Belfast's Nomadic Rituals' second album, is something to behold. An expansive concept album covering the birth of the universe to the self-inflicted destruction of mankind, you can't say they're unambitious.
As the album starts along that narrative, it is I suppose apt that the beginning - From Nothing - sounds cataclysmic, slow and dense doom, suitably epic. Eons elapse, little in the way of life, nought but earth shattering tones. Next is Expansion, and as you'd expect there's more movement here, beneath the doom faint but detectable space-rock style psychedelic swirls carry through on the galaxial dust, the vocals a death/black mix, all swallowed into a black hole of grim death doom by the end. The median style, as on Far From the Sun, is of trudging, torturous doom, pointers towards Ommadon or Primitive Man.
At the beginning of Watching the Cycles, as occasionally elsewhere, the vocals take on an almost Gregorian chant quality, although filtered through some necro effects, lending further an otherworldly feel. There's also a machine cog feel from the riffs, a sense of creation, growth and evolution. Or maybe I'm making this all up now, it's quite possible I've been unwittingly submerged into the message of Marking the Day through overexposure and allowing my mind to wander along their suggested themes. It does that.
Samples add to the narrative at points, such as on Narrowing of the Light, which otherwise gets the head nodding. Dramatically head-spinning, this is immense, the stand out track. The end comes in Face Down in the Sea of Oblivion, where, if the story holds, we, as a species, have fucked things up beyond the point of no return. They dedicate fourteen and a half minutes, which is fair enough, given the subject matter. There's a minimal industrialish intro, before a basic set up, with relatively clean vocals, for the first time sombre, before settling into the familiar downbeat sludgey vibration.
The music, assessed purely alone, is of a more than decent quality, for those who like their doom bleakly deranged and slothly heavy. Yet this is the sum of all parts. The commitment to the concept is absolute, and transmits through the music as much as the lyrical themes, the tracks sculpted to portray the cosmic changes chartered. The CD even contains six art cards corresponding to each track's individual theme, a special package by the look of it, all avenues of linking you into the four dimensional display through all available senses. It is a bold engagement, and one that deserves recognition, for Nomadic Rituals have created something most impressive.