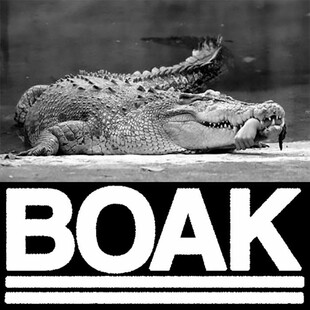 Boak, Scottish slang for vomit, puke, regurgitate one's munchie box.
Apt for the music within for sure, this second 7" (missed the first one, will have to track it down now) from this Aberdeen 3-piece is raging in a powerviolence kind of way, but they take that sometimes simplistic approach and at least let the songs fester for more than a minute a time.
It's fast, blunt and will probably elicit cries of 'is that it'? But there's the appeal, repeated plays mean these four tunes remain lodged in your brain like fragments of splintered bone. There's a sense of self-deprecation to proceedings , particularly through samples, along with the seriousness.
The first song concerns a particularly brutal police assault and the subsequent death of a vulnerable man (the case has since changed the way police in the US deal with those with mental health problems), the song's curt and blasting anger suits the righteous outrage.
Elsewhere, vegan/veggie messages are scrambled across similarly brutal cuts, which really hit the spot. It's one of those 7s that won't leave the turntable for a long while and you can be assured that there's more material on the way that will slam as hard as this too.