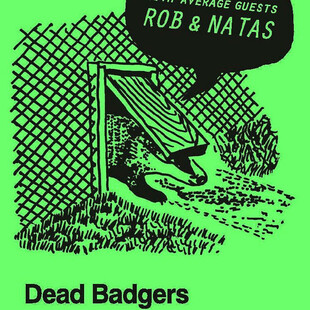 Two of Sheffield's coolest bunch of cats come together here for a rip-roaring split tape that's worth a listen right away.
Both recorded at the centre of strange in the city, the Audacious Art Space, it blisters with energy. Rob & Natas, who ply buzzing garage rock peppered with samples and goofy vocals open proceedings. Like the early-2000s rage for jangly guitars and rockabilly cool, they come off as a lo-fi Detroit Cobras crossed with 80s punk.
Tracks like Back Yard Mini-ramp bounce with a surf-bum sound that's almost as camp as the B-52s, a real tune for a drive to Skeg. Also references Pizza Hut, aping an ad sample at the start. Meta.
There's a crashing, relentless tension to tracks like Halloween, that makes you sit up and take notice. Similarly the high school legend silliness of Chief Brody means you'll be hitting rewind on here a few times.
On the other side are the fantastically strange Dead Badgers. A different proposition every time they play live, their combination of Fall/Half Man Half Biscuit stomp and the truly experimental translates to a band I want to watch every night.
Here, they take a more listenable stance than their original demos, but it's still wilfully obscure which gets a big thumbs up from us here at 9hz.
Opener Kraken has some brilliant spoken vocals from Patrick, a sketchy riff or two and it's out like a damp cig. That's what's great about DB, always leaving you wanting that bit more. See the brief and tetchy Angular and Subcutaneous Sandwich which fly by with an abandon only this trio could manage. Clelia's bass here sounds rubberised and gloopy, perfect for the scratch and grit of the guitar and spiky drums underneath.
Harmonica and drones permeate Blo Your House Down, which lays on the more nuanced vibes, not unlike Sunburned Hand of the Man's jazzy and exploratory stuff. This slow-burner sounds like Echo & The Bunnymen pulled through a hedge backwards.
The social commentary doesn't let up through the rest of the tracks, all delivered with a loopy and unhinged way from all three of the badgers.
If two bands could sum up the vibe Audacious pumps out at the moment, this would be the answer in tape form. Dirty, infinitely creative and amazing to be around. Sheffield, you are spoiled for decent bands at the moment, here's proof.