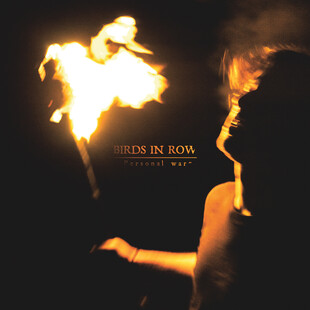 Just under a year ago I was stretching my musical horizons, broadening my knowledge of French metal following my discoveries of Celeste, Plebeian Grandstand, Cowards and more, and simultaneously listening to many of the unknowns on the line up for Temples festival to come in 2015. Somewhere within that Venn diagram of enlightenment sat Birds in Row, Gallic and neatly placed within the Deathwish Inc. roster that loaded the first day of Temples.
While stylistically not my normal cup of tea, their You, Me and the Violence debut grabbed me, and I've kept tabs on them since. This follow up has been eagerly anticipated. When the track Weary was pre-released, and two runs through confirming it as essential listening, it marked the release of Personal War a date to note in my diary.
As Weary attests, this is outright, all-or-nothing hardcore with talent and soul. There's a heaviness that no doubt pulls me in, but the character that pulsates the track onwards is positively uplifting. As someone who never hears lyrics - nevermind reads into them - I extract emotion from the music alone and I'm gravitated into Birds in Row's life-affirming energy, to stand up and shout along to what ever words I think I'm hearing. This is what makes music so exciting.
Thankfully there's more of the same quality than the preview - Torches in particular providing the same highs, raising spirits, emboldening outlooks. This is, for me, hardcore at its best - whether it be on the punk or post-hardcore spectrum, I don't really know, don't care; it doesn't really matter - the outcome that which should be demanded from the genre, a positive surge whether chanelled through anger or desperation or love, through body and spirit.
It's all wrapped up in under 20 minutes, but taking into account the energy expanded while engorging yourself in its beauty, never mind repeat listens, it never falls short. Falling way out of my comfort zone, Birds in Row have abruptly gatecrashed my until now exclusively doom-themed top however-many albums of the year list.