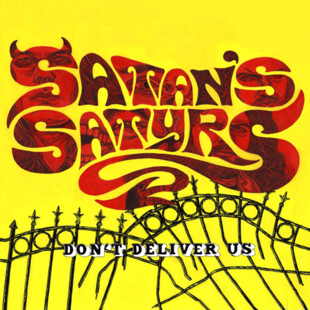 Upon hearing this gang were the 'chosen few' to support Electric Wizard's last exclusive UK show in 2014, I only felt intrigue to check them, what was the appeal? The name? The link to Oborn's crew? The fact that the two bands had now mixed themselves up with part of Satan's Satyrs holding down bass duties in Wizard? The intrigue was shortlived as I managed to miss them live and subsequently forgot about them until I heard that there was a full length on its way.
Don't Deliver Us pretty much boots off like a nasty chemical reaction straightaway, you have grinding Detroit-esque guitars howling away against thumping bass and nonsensical drum patterns and vocals that sound like a teenage Iggy Pop.
One interesting point to make about Satan's Satyrs latest record is that the groove is ever present in all tracks, the trouble with many bands within these genres, I find, is that they push for volume and parade their Matamp's, beards, tattoos and silverburst Gibson guitars without putting much into their actual songs. I know that probably offends most of the current favourites at the moment but in the incredibly stale and overdone world of 'doom' and 'sludge' where volume seemingly makes up for lack of actual musicianship, it's nice to hear something that actually has some effort thrown at it like a piece of rotting meat at a glass window for all to see.
As Don't Deliver Us thunders on like Uncle Acid's disgusting granddad, the overall feel is that of pure filth and potentially the perfect soundtrack for a drug induced car trip through a wet city at night as the lurkers start to appear.
The instrumental work on this record is interesting to say the least, it has hooks that you want to say have been done before but you're wrong. They've not ever been unleashed like this, it's beyond a fuzz pedal and detuned E string, has a pattern, feel and the all important vibe that most bands lack.
Some of the tracks throughout (notably Germanium Bomb) incorporate a vocal melody that injects Sabbath, The Shrine, Black Flag and Blue Cheer elements into the ears.
Obviously, this record won't be everyone's cup of tea. I'm not an influential enough reviewer to say that it will be, but what I can tell you having dipped my toe into this buzz saw bloodbath of psych, proto, doom, rock is that you've not heard anything like this and, it's highly unlikely that you ever will afterwards...if you do, guaranteed it's a whole swarm of bands imitating it and using the word 'witch' 'bong' 'electric' or 'satan' in their name.