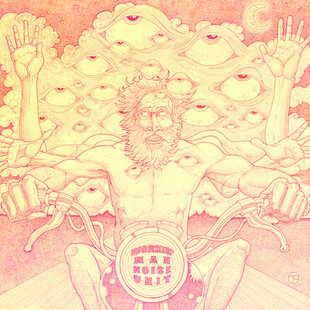 Because we just love them to bloody bits, we've managed to snag the exclusive stream of the new WMNU video for Icegrill 420 which we can all agree is ten tons of wonderful.
Enjoy.
In the meantime, please also see what we thought of the new album below.
Someone set fire to a Sabbath tape, at least that's what's happening in my mind.
Where do you start with a band that bring such elation and wide grins wherever they go? Hell, even Julian Cope digs them, and we've reviewed all their output with earnest vigour since 2010.
Rewind, if you like bands that sound as if they are playing dude rock crossed with Black Sabbath and strange, scratchy AmRep fodder then this might be your dimebag full of happy powder. From the first crash, Play Loud simply hits a stoner rock vibe that's perhaps been missing before, they are less washed in static than on their previous tapes and the vocals are clearer in places this time, but it sounds like a ghetto blaster spaceship trip to the moon, such is the energy and enthusiasm (barely) contained within.
The creepy electronics are back again too, a fuzzy but welcoming buzz greets you on tracks like Creepin' Round which pours on the sleaze in buckets.
WMNU are basically a party band, intent on providing the LOUD and DOMINEERING bombast to soundtrack your self-destruction. Evidence can be found on the blissed out Yeah I Was Hypnotised which practically brings out the streamers and fondant fancies for all your guests. Reference points could be in any direction, Suicide, Wooden Shjips gone upbeat, Stooges gone southern England, doom bands in festive spirits, whatever, it's just that good. The closing passages of this particular track melts down like crayons in the sun, all that's left is a rancid puddle that bares no colour.
Black Lights is psyche for cheeseburger lovers, all fat and lethargic, the fuzzed vocals and peals of feedback belie the softer vibes also on display but it's all leading to those fist in the air moments of crescendo. Being in this band much be so much fun, but they might all be deaf by now.
All this eulogising is exhausting but basically you really do need this band in your life. For all their bluster and comedic song titles, they hit all the buttons that ninehertz readers will want and if the pure riffs on songs like the countrified Smoke Like Hell don't raise smiles, you're doing something wrong.