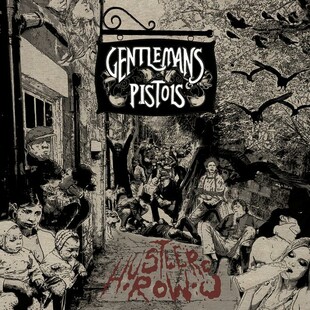 They'll never be called prolific. As a comparison with two of their label mates and peers, Graveyard were formed in 2006 and have just released their fourth album, and Kadavar appeared in 2010 and have just beat Gentlemans Pistols to the release of their third album by a few weeks. Having formed in 2003, it's a long time waiting for new material from Leeds' finest hip thrusting, beard toting, sex obsessed good time warriors.
Perhaps part of the tardiness is down to Bill Steer's busy schedule. But all in all, it just makes this all the more tantalising. And when the result is as good as here then you're just happy knowing they're out there at all.
Hustler's Row bristles and glows with a merry self-confidence, born presumably from friends playing music they love. It harks back to eras past, but never forced, not an overthought angle grasping for some retro cool kudos. Everything they play feels natural and joyous.
As ever, there are no occult, psych, doom rock or uber-seriousness pretensions - the sound is of the 70's, the free flowing base in the world of early Aerosmith or Free, all with Gentlemans Pistols' trademark knowing tells - not least James Atkinson's slinky litheness, his smutty playfulness a definitive feature. The opening combination of The Searcher and Devil's Advocate On Call instantly set the bar high and get you in the mood - to sing, dance or drink, but most tellingly in putting a smile on your face.
Even the lesser moments here are better than many others' best (although I'm not sure about the pace changing title track). It largely stays strong throughout - Private Rendezvous, Coz Of You jump out... the riffs generous, the grandstanding solos ubiquitous.
There's an uncanny inevitability that this was going to be special, such is the talent at their disposal, their track record in superb releases and as one of the most fun live bands this country has. But that shouldn't allow us to take this for granted (especially as who knows when the next will come around). Classic, proto, retro - whatever rock is called where stoner and doom fans find their old time kicks - the surge of the last six years or so has now stalled somewhat, the albums more sparse and less effective than that exciting period. Yet Gentlemans Pistols buck the trend, rolling onwards, always smiling, always rocking, always brilliant.