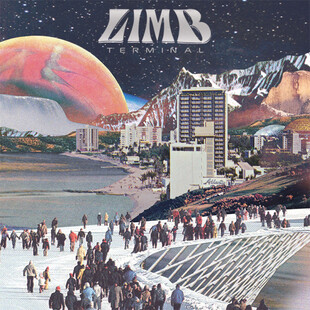 Perhaps its just my perception (based on repeat plays of Daemoness when I first heard them), but it feels like Limb move more along the connecting wires between doom and stoner - from the former to the latter, almost unfashionably - with every release. Terminal continues that journey. Line up changes, including the addition of former Uncle Acid and the Deadbeats drummer Tom Mowforth may well be part of the reason, but they have always straddled the two, and it's actually refreshing to see bands embrace the older stoner vibes and not just reach for the darkness of the doom zeitgeist.
This is gruff, drunken Orange Goblin-spirited, British Scissorfight or Alabama Thunderpussy drenched output, although carrying a pissed off vibe throughout that forces you to take it seriously. The Clutch-ish Ghost Dance is inspired, while Micromegas packs more groove into its four mintes than other bands manage across an album. Along with the recent demo from Chubby Thunderous Bad Kush Masters, this is the high wave of what this genre can still produce, what it can stir in you.
It doesn't always work, the surely by now hoarse vocalist and chunky riffs sounding like many a tired generic stoner rock start up of the early 00s, and speaking of the sound in general - the rough and ready brashness - can become cliched, overtly Americanised and/or by the numbers. There are a few British bands around walking that tightrope - think Desert Storm or Ten Foot Wizard - but Limb's class and experience ensures the concerns are only raised fleetingly through Terminal.
The album actually gets stronger as it goes on, no accusations of front loading the best tracks to draw you in here. Down By the Banks is a full on rolling behemoth of brilliance, song of the year contender bracket, whilst Mortuary Teeth stands out with a heavier, sludgey racket that is distinctly harsher than all around it.
The whole record is bold, a band comfortable with their progression and confident in the quality they possess. Any why not? Limb continue to create great records, and Terminal is their most rounded and best to date.