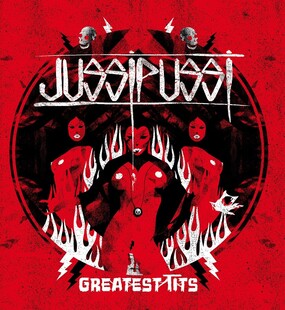 If you ever wonder why review sites lean towards the positive, then it isn't always due to a subservient desire to placate and pander to bands or PRs. In this digital age, we at ninehertz receive a lot of music and review only a fraction - it is, largely, just two of us reviewing in our spare time, and therefore you give a quick listen to what is submitted and pick out those that stand out (to be clear, I'm not complaining). I like to think positive ninehertz reviews are harder to earn than others, that we review honestly, but we're not going to review garbage when there's twenty other albums needing reviews more worthy of the time.
However, I make an exception here as something irked - it may be the blurb proclomation that "if you like Jussipussi, you also love Queens Of The Stone Age, Mastodon, Clutch and Red Fang." Hmm. Added to the band name and album name, and this pisses me off before I have heard them.
Hailing from Milan, Jussipussi seem to mistake the quirky stoner rock modernity of QOTSA or Red Fang for bland middle of the road hard rock. It's poor, and quickly apparent. There's a nu-metal hangover underlying too - like they've arrived at this sound via an outdated fandom and via the heavier ends of the Jimmy Eat World era (listen to Warning Sign if you think I'm just being right-on dismissive).
To be fair, and I've tried to remain impartial to the music at least, it is produced well, a clarity to the sound, and the funky riff in Explant is fantastically catchy, but all too short. While their blurb may be true when you think of the way it is worded, the alternative statement "if you like Queens Of The Stone Age, Mastodon, Clutch and Red Fang, you also love Jussipussi" is highly contestable, one I'd give a 0.1% chance of holding true. Where the Mastodon reference comes from is beyond me.
Taxi Driver Records are putting some good records out at the moment - I'd urge you, at least the remaining stoner rock fans amongst you, to check them out and keep track - but this isn't one of them. Jussipussi - even typing the name makes me cringe - are outdated in more ways than one, and until they grow up irrelevant.