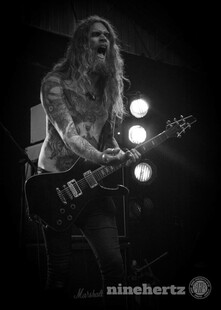 Temples Festival is only in it's second year, but already feels like an institution that brings together the best of the doom, hardcore, black metal and other extreme metal worlds into a professional yet tightly knit welcoming event and venue, and three days of ear destroying, smile enducing parties. Last year I headed down alone, albeit with plenty of familiar faces to catch up with, but for 2015, with the success of the inaugural fest (and my endless bragging of how good it was) behind us and the incredible line up assembled here, a horde of friends from the North, including several from ninehertz descended on Bristol.
Here we start off three day-by-day reviews, cataloguing our experiences band by band. Reviews have been written by myself, Mike and Joe (aka clatterbones, to give him his 9hz reviewer name). Photos were expertly taken by Ari, more of which can be found on our facebook page.
OBLIVIONIZED - Oblivionized provide the festival's first dose of overt technicality, but perform it with a healthy amount of punk energy which will become something of an overarching theme for the day. The music varies from sprawls of intense but remarkably precise dissonance to persistent and hard-hitting mantras of aggression – particularly exemplary in the closing track. The group's explosive dynamism is perfectly housed in the cosiness of the festival's second stage, allowing for the limits of the venue to feel satisfyingly breached, but the absence of bassist is felt on both a personal and occasionally an auditory level. (Joe)
MONOLITHIAN - I catch fleeting glimpses of Teef and a couple tracks of Throats, but the long drive down, lengthy queue in and the need to re-familiarise myself with the Motion site and get the first beers of the weekend mean my first band proper is Monolithian in the new third stage. This is a band I've championed for a while now - whilst doom duos are on the rise and quickly, potentially becoming passe, they've retained my love, and the new album has only furthered my admiration. They start off slowly - and not just in a doom sense. The sun shining in, the crowd finding their festival feet don't help, but the band don't seem to hit their stride immediately and I fear for them as the two piece don't fill the festival stage. I stick with them, and am gladly rewarded, the sound gains oomph and the crowd respond, the darkly doom starts to reverberate and I'm left even more impressed than I went into it. Definitely one of the British highlights of the weekend. (Pete)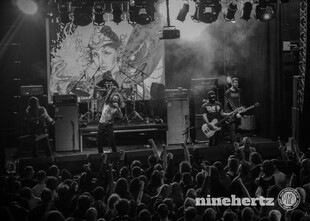 YOUNG AND IN THE WAY - The Deathwish Inc invasion of the mainstage begins with Young and in the Way, after they swap stage times with Harm's Way for some reason. I only catch a few songs of their set, having left Monolithian a little early due to what was at that point a still possible, but ultimately and inevitably futile, idealist belief I could catch every band across the weekend. I've got their latest, When Life Comes to Death, and appreciate it for the pissed off hardcore it is, but not being my thing, they surprised me with how much I got caught up in the little I saw of them. Bounding around the stage, all hair and energy, you could sense their enjoyment at playing and it rubbed off and it maintained the smile I had going in. (Pete)
SEA BASTARD - The dedicated doom stage of the first day really starts to earn it's name with Sea Bastard's entrance. On record they can be a mix between uncormfortable menace (in a good way) and impregnable desolateness (in a bad), but live, this for the first time for me, they thrash away nicely between, an engaging downcast yet energetic thrill that toasts the mood and invigorates the atmosphere. (Pete)
THE AFTERNOON GENTLEMEN - It's heartening to see the north represented here and they don't come more strange and obtuse as the 'gents from Leeds. Combining grind with a tongue in cheek sense of style can backfire sometimes but these guys drop the humour at the right points. There's a guy in a pointy witch hat bobbing around to their lightening-fast riff explosions and that sums up their set, silly and non-cerebral, some stupid among the po-faced. (Mike)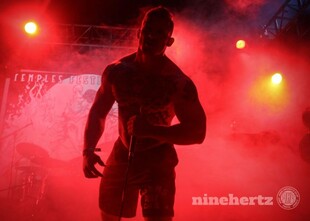 HARM'S WAY - By the time Harm's Way come on, despite it being only late afternoon, I may well have had too much beer. Throwing myself into the festival spirit, and with little food (the veggie caterer's again letting the festival organisers down - although that can't really excuse my inebriation) things were getting a bit blurry by now. Harm's Way are one of my preferred Deathwish bands, and despite not really deciphering any particular song, I do at least remember launching into several hand fist, head nod metal appeciation poses from near the back during their set. Impressive, and more the so as I was convinced, against the red light background, the singer is Drax from Guardians of the Galaxy with his muscled affront. It's around now I realised I needed food for a semblance of soberness, quickly. (Pete)
METHDRINKER - To call yourself something like that you've got to come up with some pretty stinky music right? Thankfully Kiwis Methdrinker have it in spades. Slow and forcibly bleak, it's almost an adequate replacement for the absent Today Is The Day. Vocals are eked out in painful screams while the guitars remain tortured and humming with feedback. Songs tend to be drawn out and dripping with malice, just what the (plague) doctor ordered. (Mike)
TRAP THEM - Tone, and plenty of it means Trap Them sound massive on the main stage. Their snarling, wild take on hardcore with a blasting, blackened twist is mind-blowing to witness. While not a lot to watch physically bar the vocalist screeching in the front row like a demonic preacher, their sound has a way of worming it's way into your mind. Punishing percussion and a raging, unrelenting approach to volume (who needs dynamics anyway?) it's another triumph. (Mike)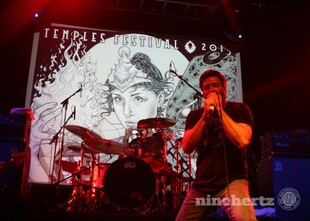 WILL HAVEN - I was at my mum's house a few weeks or so before Temples and she found her diary from 1998. Looking back, she had written "Pete going to see Deftones and Will Haven at Manchester Uni." 1998... It's a long long time, but it's been good to Will Haven - not only are they as energetic as back then, but the decades between have allowed me to fully appreciate the class and temerity they showed in creating awkwardly original hardcore metal classics while incorrectly tagged on to the edges of the nu-metal scene. Drunk, and further intoxicated by the joyous atmosphere Temples seems to exhude, I stand in the pit for the majority of their set, and as I've Seen My Fate erupts by, and as bodies fly past, it's an exhilirating rush. I resist the urge to rush off to Slabdragger, as sad as that made me, to wait for one of the tracks of my youth - the title track from Carpe Diem - and when it duly arrives to end their set, I explode with excitement, and feed from the band's energy to mosh like I was 18. Like back when I was 18. (Pete)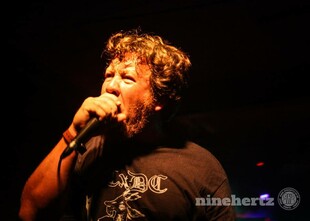 PIG DESTROYER - With so much quality material, it's hard to know how PD put together sets. Vocalist JR Hayes resembles a caveman these days, meaning he seems even more genuinely terrifying when in full raging, spit-flecked, teeth bared mode. On record PD songs flow like foul sewage from track to track, the endless blasts being intersected by groove and chug, acting as temporal barriers. Live, the dynamics have even more effect, with the churning style Scott Hull favours dropping incendiary bombs in the tightly-packed second stage. Tracks like Gravedancer sound as murderous as ever, and the Prowler material adds to the tense, flexing atmosphere too. (Mike)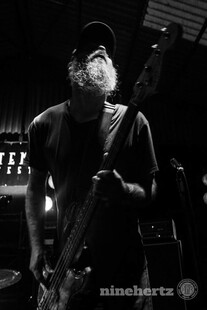 WEEDEATER - Late on Friday, and people are starting to have to make commitments, to submit to their allegiances and make sacrifices on other stages, just to get in to where they want to go. Or at least that's how my panicked drunken self felt, as I loaded my pockets with cans from the bar and headed to the third stage shed knowing full well I would miss Nails and the majority of Converge. For a doom fan though, a double header of Weedeater and Bongzilla is hard to comprehend, never mind resist. Weedeater, with new album (Golithian) freshly pressed, come first and despite being able to call upon that and genuinely classic albums like Sixteen Tons, God Luck... and Jason... the Dragon, sadly fall a little flat, at least for me. The sound is a little thin, and what should be a triumphant set is lost somewhat in the plentitude before and after. (Pete)
BONGZILLA - There's no such trouble with Bongzilla. As with Will Haven earlier in the day, it's been a long, long time since I've had the pleasure of seeing them in the flesh, but I've remained acquainted with their records ever since, a catalogue of enormous highs, and not just in the doped innuendo sense they regularly deal in. Bongzilla are a furious sludge band, the cream of the crop for me, walloping out their sound with force and heaviness allied to an oft forgotten groove, an undeniable stoner beauty buried beneath the unholy grime that creates timeless and unbeatable tracks. It's all laid out here, an hour of blissful bludgeon that evokes memories of old and creates it's own. As I head over to catch the last of Converge, and for days after, I'm told I missed the set of the century - I honestly don't care as I wouldn't want to have missed Bongzilla here tonight for anything else. (Pete)
CONVERGE - What can be said about Converge live that hasn't been said before or can be described accurately? Not much. But the atmosphere in the main room is palpable as the minutes tick by. Within moments of them starting though, I am catapulted back instantly about ten rows from my place at the front, but I don't care. The opening salvo includes the irrepressible Dark Horse of which the fevered crowd know every note of intimately. Being battered around to such insanely complex music is a real experience.
Later on, slower and more introspective pieces of their back catalogue are revealed, the paean to self-doubt Aimless Arrow and the glum All We Love We Leave Behind sound huge.
A blink and you miss it Concubine sets off the pit even after an hour and Bannon holds the crowd captive with his furious energy and frank vulnerability. Hard to even come close to, Converge are seasoned veterans now and this was a perfect example of their artistic vision and scope holding sway in a way only they can. (Mike)