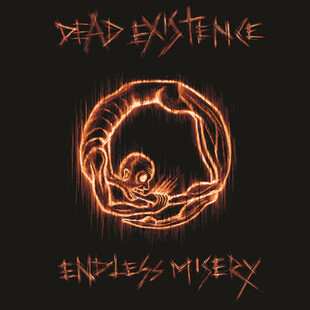 I first saw Dead Existence on an all dayer, headlined by Conan. And it is on Black Bow Records, the label of Conan's Jon Davis, that they make their recorded return, with Endless Misery. Long, depressing, no frills metal with a loose doom base characterise their tracks - and nothing has changed, except to hone those qualities into this album that so aptly defines their ethos.
It's perfectly pitched between droning repetition and free flowing doom, always moving forward yet with a weighty gravitas enabling the tracks to reach for and at times attain something monumental. Straight away Consume brandishes a pissed off hardcore attitude to the downcast doom debauchery, grinding to an ever slower manifestation of miserableness.
The vocals are significantly given full backing to lead from the front, the negativity espoused perfectly set upon a platform for the full despondency to hit home. When Tear Apart the Veil intones "growing older, what have you got to show for it?" it is stated with utter contempt, making you shift uneasily as if needing to justify yourself.
Apart from the twelve and a half minute closing Regretamine, slow slow doom, by which point the album title is starting to make a lot of sense, there are various metallic genres hinted at and dipped into, a general sense of an appreciation for much of extreme metal across the spectrum, betraying itself in a release that is difficult to fully pigeon hole or state as a straight up doom record. A noise interlude and the spooked strangeness of Delusion of Hope (cheer up guys!) only add to the eerie atmosphere.
An album that has been expertly judged in writing and production, it feels alive, fed by a lugubrious vitriol that is uncomfortably captivating. Recommended to all except those teetering on an emotional edge.