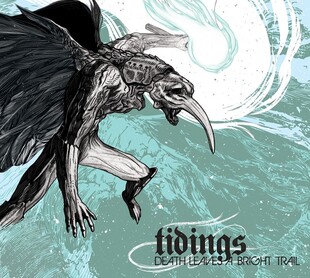 Post metal has spread out in a dark bloom in recent years. There's so many bands out there brooding with angst it's practically the new nu-metal in certain circles. But woah there horsey, the genre is much less masks and DJs spinning sick samples ok? There's substance in the waves.
Recently there's been a black metal edge to some of the post crowd. Borrowing some thrashed-at evil chords and taking audiences' faces off being a current trend without resorting to petrol/church interfaces.
Tidings, from Edinburgh no less, borrow bits and pieces from what make these omnipresent characteristics so essential and life-affirming and somehow sound unique with it. A drummer who comes to the table not paring down the 'metal' part helps, there's a sense of heaviness tipped at constantly throughout this release, with dynamics only given the briefest of windows.
This is welcome though, it gives the two guitars and the bass space to build and develop at different paces, long passages soar into life and then attain second winds constantly.
Reference points are as common as blackbirds however, Cult of Luna, Russian Circles, heavier Mogwai material all flash by with new shoes on. Some though are imbued with some more subtle and decadent moments that bring to mind more celestial outfits, the less intense intro to The Bone Orchard I - Across the Plains sound more God Is An Astronaut, veering to a more joyous feeling of freedom.
There's also enough variation on offer to keep even the most pedantic post metal grumble-bum happy. Long periods of heaviness reach epic pinnacles too but are never lost in noodling territory.
The only gripe here is perhaps a rough edge, it's very clean, even when heavy. The gut-wrenching heaviness seems too rounded-off and although there's noise-led samples in there, that too feels filtered and somewhat digital. A more organic or fuzz-encrusted approach could work wonders, the darkness is there but somehow lassoed within safe constraints.
By breaking free, Tidings could well rip your face off, at the moment they are lashing out, teeth bared, but tied down.
A fantastic release nonetheless, during live shows they employ eye-destroying strobes to make their point, adding to the maelstrom further. Make it your mission to see them, it's captivating stuff.