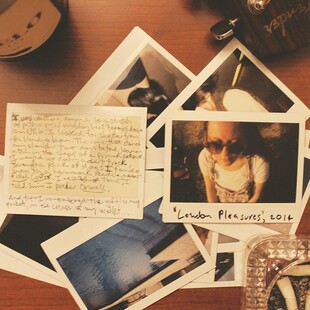 It's not often you get sent something that both manages to sound both exotic and altogether local concurrently.
Loic Tuckey, he formerly of Wooderson and currently Che Ga Zebra as well as the host of the Audacious Art Experiment/Space podcast in Sheffield has been busy traveling the last few years and has mashed all experiences into a new project, Bonetti.
What we have here is a heatwave of musical influence from seemingly South American wanderings, it sounds busy, chaotic and not unlike being on sweaty buses and equally chilled beaches. The sound collages come courtesy of a dictaphone that capture street sounds and clips of strange conversation (...seen his arse a few times this holiday...).
Elsewhere the tunes take both Tom Waits bar-room cool and hints at the more hazy climes of Lovekraft-era Super Furry Animals on Oaxaca and a sleazy pop tone on the excellent and smokey Flying to Bogota.
It all feels like a Sheffield take on a travel documentary, it could be equally fascinating to hear the reverse, a musician from say Antigua traveling here on National Express and being wowed by the Wicker.
Joking aside though, Bonetti's sound is arresting and warrants multiple listens just to feel the sheer amount of influences surfacing. The constantly-there sense of awe and also danger that reflects foreign travel so well, combined with a knowing nod of humour makes it totally unique.
It's hard to pin down where Loic might be taking this band next. If the ideas crammed into this quarter hour are anything to go by, we could be in for more wildly exciting music very soon.