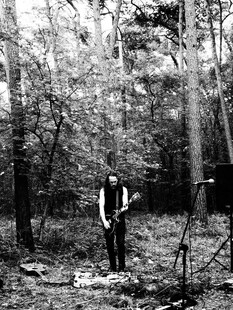 9hz: Your sound is both very natural and elemental despite being steeped in electronic effects, what do you seek to achieve when you start out in a composition?
Ashtoreth: The way I work always starts from improvisisations in my home studio, usually those are a direct translation of my mood, a certain thought, something interesting I've read or heard that day.
Sometimes I also put restrictions for myself, like for example not to use any effects, or only use a certain amount of notes or chords. This helps me a lot to push the boundaries of any given restriction and enables my creativity to flow more freely. It sometimes happens that I turn on the radio or the tv set in the background, or open the window, so the sounds from outside can come in.
This helps me to zone out, and also to have an element of interaction, as I'm usually playing alone.
I record everything I play and then afterwards, while listening back, I decide which parts to be interesting and those I want to discard off. A lot of times it happens that something considered a mistake while improvising becomes a new idea to further elaborate on.
So from there I start thinking of how to bring those different parts into a sort of composition, or how I will play them in a live environment. But to finally answer your question, I guess my main goal with my pieces and live shows is to draw people in, take them on a journey, expose them to a certain mood, conjure up images or a movie of their own. And to create dramatic contrast and dynamics as well I suppose.
The great thing about improvised live music is that I can decide on the spot what kind of mood or direction I want things to develop and it enables me to interact with the energy that an audience radiates towards me. Some of my work is little naratives with a beginning that can be all dark and grim, but then that gets countered with a very light and hopeful ending. I think Sacred from the Angels Guide The Way to Our Harbor, is a good example of that.
9hz: Did you arrive at making this kind of music through different genres? What artists or influences made you look into the more minimal, ambient music you produce now?
Ashtoreth: That is quite correct, my personal taste in music is very broad. I always say that for any time of day (or night for that matter) there is a certain genre of music that fits best. And I also believe when you want to be an interesting artist, you should draw influences from as many sources as possible.
I grew up with classical music and have a classical training in music as well. From there, I went on to play in all sort of rock bands, but always with a bit of twist. I dislike genre-defined music. There should always be something adventures, out of the ordinary, a pinch of weirdness and unexpectedness to music for me to really like it.
When I was in my early twenties, I was in a band called Maya (we released two cds on Conspiracy Records, Slow Escape and Biocide. That band consisted of very different individuals. Our drummer was into sixties music, our electronics guy was into ambient and techno, the guitar player was a huge Led Zep fan and I myself was very much into metal and hardcore at that time. But despite all those musical differences we managed to create music together where all those influences found a place and made for an interesting and unusual mix that didn't sound like a puzzle of pieces that didn't belong together.
Later on I played in a couple of screamo/grindcore/sludge bands and around the turn of the millennium I became involved with sound art and electronic improvisation with a project that was named Building Transmissions. We mostly operated in the art world and did various albums and collaborations with the likes of Aaron Turner, Douglas Park, Samon Takahashi, Rirkrit Tiravanija...The interesting thing about that
project was that, at least in the formative years of our existence, we always did something new with each live performance, be it drawing music, using random computer generated programming to achieve compositions, using architectural parameters translated into sound etc...
And that somehow brings us to what I'm doing now. I want every live performance to be different from the next and to constantly push my boundaries. Also the, what should I call it, libraryisation of genres, if that is a word at all, is something I took from my first band, Maya.
That is, bringing together folk and noise in one live set or doom and spaced out psychedelic ambient in another. As for the influences and artists that influenced me into making the more drone / ambient / minimal music I'm doing now, I guess they are also coming from very different
angles. But to name a few... I'm a huge Neurosis fan and admire the dynamics they bring to their music. Through them I got to know their side project Tribes of Neurot and that really got me into the whole ambient thing.
As a kid I listened to Klaus Schulze, Vangelis and Tangerine Dream and TON brought the attention back from more guitar based, song structured music to electronic and improvised music. A few years ago I saw the Italian musician Above the Tree as well as Brian Danilovski`s solo project Darsombra live and all of a sudden I saw the possibility
for playing solo. They proved it could be done, that you didn`t need a full band to bring interesting music to audiences. And then there is of course John Fahey, Earth, House of Low Culture, Richard Bisshop, Michael Gira, Richard Skelton... the list could go on.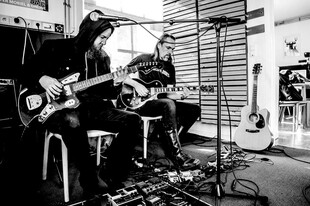 9hz: How do your collaborations come about? Do you prefer live or studio recordings with other artists?
Ashtoreth: As for collaborations I equally enjoy studio ones as well as the live ones. They each bring different aspects to the forefront. I guess if I really had to choose I'd go for the live collaborations as those are the most adventurous and a bit more on the edge. With some musicians, like with Tim Holehouse for example, it was an immediate recognition of each others music and personality.
Playing live with him is the easiest thing ever, right from the first moment we jammed together. With others it takes some more time and a bit of directing of ideas. And then there`s offcourse the ones where you can`t find a common ground and each musicians seems to play by himself instead of creating something whole. In that sense music really is a language where you know after a couple of minutes whether you have an understanding or not.
The collaborations that I'm involved in, or was in the past, usually come about in a very intuitive and spontanious way. In the case of TCH, we witnessed each other perform at a Christmas show here in Antwerp, and there was this immediate appreciation for each other`s music. He invited me to tour with him and since then we have become steady tour buddies. On that last UK tour we almost never did any solo sets, just got in there and play some improvised tunes.
Sometimes I see an interesting artist perform and just ask them to do something together. Usually when there is an appreciation of someone`s musical approach, the collaboration goes easy. I guess that's another advantage of doing a one-man band, it's much easier to collaborate with different folk, and they always bring a different viewpoint to what I'm doing.
I`ve collaborated with other guitarists, vocalists, drummers, video artists, even with writers and yoga teachers.
9hz: You're due to play this year's Roadburn festival, what can attendees expect from your appearance there?
Ashtoreth: The last couple of shows I played, I saw the use of my voice become more dominant. It's great to set a mood and it's something that keeps on developing over time. I use different types of shamanic voices, from the really dark and low Mongolian style throatsinging, native American sounding vocals, over almost church­like male choir voices and as of late a very sinister high pitched 'conjuring up spells' kind of shriek.
There`s a lot of darker elements creeping in my music lately, especially atmospheric black metal kind of stuff. It's not that I'll be playing real black metal type riffage, but the mood is certainly there, be it in a drone kind of way.
I like to see my performances as rituals and I think I will go really dark and bleak on the Roadburn audience. But then again, who knows, it could be something entirely different once I'm on stage!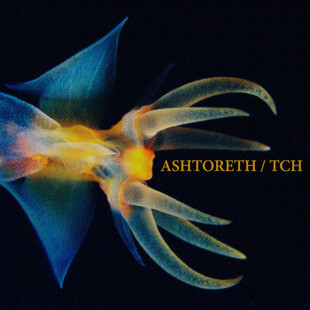 9hz: Do you seek to channel something of the supernatural or otherworldly in your music? It sounds as if you are invoking spirits with some of your material, particularly when the vocals come into play.
Ashtoreth: That is in fact so. For some years I've been involved with shamanism and I perform rituals and healing sessions. It's actually through my involvement with shamanism that I discovered the possibilities of using my voice. I was always a bit shy to use my voice as a real singing voice, but in shamanism it doesn`t really matter whether one sings in the right key or not, it's more important to attune to the right frequency in order to achieve a healing effect in the patient.
Sometimes it can sound very harsh and ugly, but somehow you know that it's right when you`re performing in a healing session.
It seems to me that my voice changes depending on which spirit or shaman works through me.
Because that is what you do as a shaman, you`re to be totally empty and let spirit work through you and guide you.
When playing live with Ashtoreth, I always burn Sage or Sandalwood on stage. Sage is a herb used by many cultures to invoke the spirit world and the smoke also creates a bond between myself and audiences and has a cleansing ability. It became my trademark and it helps me to get in the right mood. I guess apart from that I`m channeling the natural world and more in particular the spirits of the forest.
9hz: Did you find yourself touring much? Do you enjoy the live experience?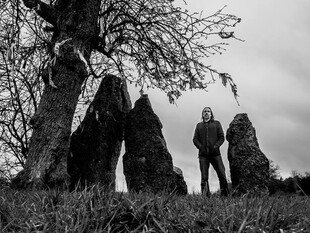 Ashtoreth: I can`t complain, as I mentioned before, TCH has been my touring pal for quite some years now. I don`t have a driving licence and Tim is always up for having some company on the road as he`s a relentless touring musician. We`ve toured the UK, and a lot of countries in Europe together. On the one hand I enjoy touring a lot, it's adventurous, you meet new people and get to play your music in different settings.
Just the feeling of being on the road is something I really treasure. On the other hand it is also very tiring and you sometimes end up in situations that aren`t exactly safe or what you would have wanted in that moment. It certainly is a challenge that not everyone is up for. I like to keep tours short, like maximum two weeks.
I'm actually thinking of a new strategy towards touring and that is to visit just one city at a time, meet up with some befriended artists and work on a project or recordings for a while, play some shows in that specific city and then get back home and repeat the same thing in a different city. I guess that would enable me more to really get to know people and places, because that`s certainly another downside of touring... you always have to leave.
9hz: What plans have you got in terms of releases and projects coming up?
Ashtoreth: We just had our collaborative remix album released with great re-imaginings by The Hare and the Moon, Raxil4, Echoes Throughout The Caverns of Leytonstone, Traumasutra, teleferick, Dayin and various other artists.
During our UK tour Tim and me recorded two more tracks in London for a new 10 inch that will see a release this year, and I`m also doing remix work for other bands and artists and expect them to be released in 2015 as well. To mention a few, I did remixes for Grimmsons, Trysth, The Hare and the Moon and the now defuct Grown Below.
And there will of course also be my own proper Ashtoreth studio album that I'm currently demoing and working on. The skeleton is there, now I need to fine-tune things and record it. There will be some vocal contributions on there as well, with James Banister from Gorgantuan and Maria Jiku amongst others.
9hz: Do you have anything you've seen musically in the last six months you'd like to recommend?
Ashtoreth: Next to my involvement with Ashtoreth, I run a small record label/art platform (Deer Trail Records), with which I organise exhibitions, house shows and my annual Ceremony of the Ascension festival.
That gives me the opportunity to get to know a lot of emerging artists.
Some of the artists I would recommend are H.U.M ( a collective around Bristol based ZamZam Records), Monnik (anther brother in drone from Belgium on Consouling Sounds), The Hare and the Moon (spook folk from Scotland on reverb worship), N (immersive drone from Germany on Denovali Records/Consouling Sounds), Matthew Collings (also on Denovali, I played a show with him and was very impressed with his approach to sound and his bizarre set­up involving ping pong balls and grains on guitar speakers), Above the Tree and drum ensemble du beat from Italy, Maria Jiku (amazing drone noise), Innerwoud (drone on standing Bass) and my friend Mytrip from Bulgaria in collaboration with black metal vocalist Yhdarl, offering a merging of electronic drone and the bleakest vocals I've heared in a long while.
I'm probably forgetting to mention a lot of others, but that`s it for now!