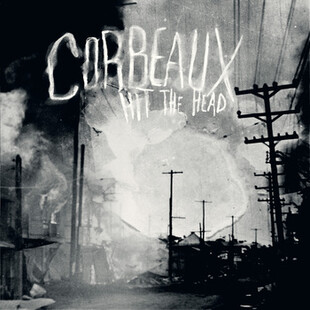 Unorthodox albums occasionally raise their heads in our crowded inbox. Most days we'll be sent a seemingly endless parade of death metal and black metal bands all with the word 'brutal' in their press release at some point. We pick only the most interesting or unique bands to bring to your attention and France's Corbeaux fit that bill perfectly.
Being neither death or black metal but painting themselves into the same corner as Pelican, Russian Circles et al, they actually sound nothing like that. Corbeaux's sound is one that is refined and somewhat scattershot in terms of influence but one that is tightly and engagingly delivered.
Opener Cran d'Arrêt pummels away with a metallic and dense sound and also throws time signature curveballs into the mix. If you think Corbeaux are close to ploughing a riff for too long, they simply change tack, moving into screaming guitar sections from a standing start one moment, launching into almost pop punk rhythms the next.
Magnus Lindeberg of Cult of Luna's production job gives the drums in particular a central role, the snare nearly taking off your face on the paced La Bagarre and the shimmering synths soothing your mind on the intro to 7th Avenue.
That song in particular winds its way from calming, swirling passages of calm that occupy that twilight wonder that God Is An Astronaut peddle, to huge, roaming and heavy sections.
Nothing so heavy as the static-filled end of Sur un Fil though, which threatens to erupt and crack stereo speakers. Crescendo is an overused term these days, but this is cataclysmic.
The most inappropriate song title of the year however must go to Corbeaux's penultimate track Where Is Dave? which is the most post metal track on offer here, veering from quiet to loud predictat, but with great aplomb.
Closing with the epic Ezimpurkor it combines choral sections of chilling ambience with screamed vocals over some heavy, crushing, pulverising waves that end with an abrupt shrill of feedback. Corbeaux have proven that inventiveness and innovating in a genre-defying way can work wonders. Amazingly ambitious and strikingly delivered this LP goes for the throat.