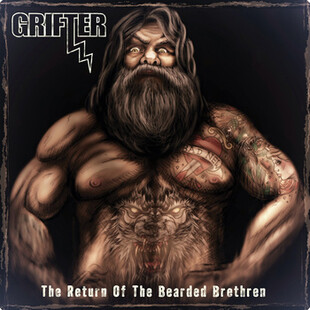 Some things in this life really are a dead certainty. The sun will rise in the East, beers will be drunk on a Friday, Nigel Farage will be spouting some absolute bollocks somewhere and yes, Grifter will always be here to rock us to the core with yet another landslide of blues-soaked, Guinness-worshipping good times.
You don't have to be a ninehertz regular to be familiar with this impeccably British act's humble wares; tasty beefcake riffage, still smelling of liquor from the biker bar it just left, accompanied by bass stacks the size of Scarfell Pike and Foz Foster's merry thump behind the kit. The Return of the Bearded Brethren is everything that it promises on the tin: black-tooth-grinning rock n' roll designed with everyone from underage drinkers to head-banging pensioners in mind.
Black Gold is 100% what an opener should sound like - loud, abrasive, gutsy and triumphant. Ollie Stygall's steamroller riffs chase Foz Foster's toe-tapping drums right down the street and straight into the corner saloon bar as Ollie's cheeky, husky croon bangs on fanatically about his favourite subject – Ireland's finest brand of stout. It's a song that's as funny as it is fun and you can almost feel the barfly regulars swaying next to you as Ollie bellows out a "TOP OF THA MORNIN' TO YA!" for the umpteenth time.
So Grifter like a drink or two it seems. But they also like the ladies too (I contemplated going for a "ladiezzz" at this juncture, but I'll spare these distinguished gentlemen the teenager-leaning-out¬-of-a-Camero-blasting-Fu-Manchu-across-the-pavement comparison) as is proven by the playful She Mountain, the AC/DC fuck-you thump of It's Not Me, It's You and the balls-to-the-Death-Star-walls of Princess Leia, all big time tunes which doff trucker caps safely to nod mode.
Things take a turn for the anti-religious on Bow Down to the Monkey, a rip-roaring assault driven by Phil Harris' mighty train-crashing basslines as Ollie and Foz shoot the shit about all the more worthy causes to pledge your soul towards other than Mr Jesus H Christ. But if spiritual contemplation ain't your thing ANNNNND if you like Motörhead, you'll love Braggard's Boast: a slugging chugger of a song that bounces along to the tune of Lemmy's Rickenbacker like there's no tomorrow before a naughty little solo lets fly from Stygall's guitar and squeals off into the ether.
Bands like Motörhead and Orange Goblin are a key comparison points here if you're as yet unexposed to the Grifter way of doing things as the likes of Fire Water and Paranoiac Blues slumber by, dragging their slide guitars and cowbells through the mud behind them, showing far more to this band's arsenal than 4x4 beats and hollerin', beer-swilling vocals. Rounding out proceedings with the driving pummel of the title track and a slick, honourable cover of Sabbath's Fairies Wear Boots, Ollie, Phil and Foz stick to what they do best: keeping it snappy, simple and groovier than James Brown ploughing a field whilst listening to vintage Cathedral.
If you know Grifter, you'll know the graft they'll have undoubtedly put into their latest release, but I can safely say that with Rich Robinson's stellar production job that this is the best I've heard them yet. No compromise, no experimentation, no empty pint glasses, just ripping leads and powerhouse performances from start to finish. Thank goodness (my Guinness) that these bearded brethren have returned, rock n' roll sometimes needs to learn that we'll always love it exactly the way it is.