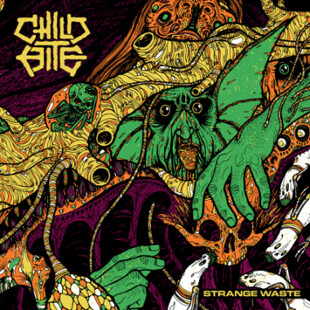 You know that phenomenon when you buy a new car and suddenly every other car you see is the very same model? I'm experiencing something similar with Child Bite. Having never heard them until this year's Housecore Horror Film Festival, suddenly I can't seem to open Facebook without another friend referencing how awesome they are. And with good reason, for Child Bite are very awesome.
Strange Waste, released on Housecore Records, is the band's second release of the year – the first being an EP of Anal Cunt covers featuring Phil Anselmo on vocals. Strange Waste it may be, but not as strange as the notion (let alone release) of an AC covers record.
Released on both CD and vinyl in a gatefold format, the record's artwork has been done by beardy vocalist Shawn Knight. Dark, twisted, colourful and intricate: adjectives which apply equally to the record's lush sleeve art as well as its sonic content. It's a wild, breathless 19 minutes, lurching from genre to genre, never allowing you the luxury of understanding one riff before you're hauled unwittingly into the next one.
Knight's vocal delivery is immediately redolent of Jello Biafra during the Dead Kennedys' finest moments. This is particularly apparent during Ancestral Ooze, which has become the subject of the band's latest video. The guitar sound is pure 80s punk/hardcore – riffs Black Flag or the DKs would've been proud to deliver during their prime. Sneering over the top of the riffs is Knight's punky, slightly warbling yelp; delivered with just the right degree of menace.
The production is mega and captures the scale of the band's sound, as well as their live energy. The bass is nasty and heavy, but the guitars cut through to deliver riffs of outstanding spazziness. The drums won't cause Chris Penny any sleepless nights in terms of sheer technical fortitude but Jeff Kraus manages to cut through the chaos to lay down apposite grooves whenever the band settles on a riff for more than a bar or two.
Strange Waste is a difficult record to pigeon-hole and far from being just a punk record - to describe it as derivative of any particular scene or genre is to do it a disservice. It doesn't sit neatly in any particular camp, being heavier and far more relevant than any conventional hardcore band. It's certainly not a metal record either, being much too treble-happy and unsettled for that. There are shades of The Locust and J R Ewing buried in there. Let's call it a spazz record: a really bloody good spazz record. Now we just need to get Child Bite over to Europe to sate those guys who keep banging on about them on Facebook.