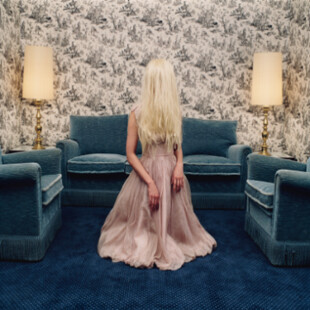 Lighting the blue touch paper and...
Oh no.
Dimesland have gone off like a firework, but one that wants to fly at eye level and blind as many people as possible.
But then before you even press play on first track Are They Cannibals? there's probably an inkling there that this won't be conventional in any sense.
Members of Dimesland have previously made noise in bands like The Residents and Wild Hunt, and the accompanying press mentions comparisons to Voivod, Portal and numerous other disparate bands.
Approaching with even this in mind is of no comfort at all. Coming across as highly technical, but with a raw edge that brings to mind Today Is The Day, Human Remains, Dillinger Escape Plan and countless others, it's a fast-paced exercise in pain right from the start.
The guitars never seem to dwell on a groove for more than a few seconds and the drums sound as if conventional beats have been recorded to tape, then looped and spooled round rusty chair legs, lurching from speed to speed but remaining on absolute point throughout. The drummer is clearly the lynchpin for the chaos on offer here, controlling the sometimes dizzying time changes like a demented metronome.
Steeped in static and extensive washes of noise, there's no break even between tracks. Witness the start of Xenolith where a barbed, stinging intro gives way to death metal-esque blasting before opening up into a tech-heavy instrumental.
Dimesland are one of those bands struck by a lack of clear identity, what they play cannot be categorised in simple terms, but they are of a standard that this renders their classification moot. Who cares what they might be labeled when it chews you up and spits you out with such ferocity?