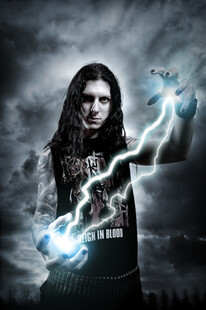 The discrete worlds of stand-up comedy, documentary and live heavy metal have co-existed in different but complementary orbits for a couple of generations. Never before has man sought to combine these disparate, but wonderful, disciplines; until now.
Andrew O'Neill's History of Heavy Metal is an irreverent and humorous walk through the last 50 years of heavy guitar music, delivered by well-known stand-up comic, and self-proclaimed metalhead, Andrew O'Neill. Armed only with an electric guitar, an encyclopaedic knowledge of riff history and a sharp wit, O'Neill offers 90 minutes of belly laughter; much of it laudably at the expense of master metal muppet Lars Ulrich.
O'Neill is a fervent enthusiast of the riff, having grown up on a teenage diet of 80s thrash. As well as being a reputed comic, he is also an excellent mimic and fine guitar player. He delivers this whistle-stop meander through metal history by playing its finest riffs and recounting some of its funniest tales. Lars Ulrich, of course, bears the brunt of the roasting through the 80s and 90s, but then so he should.
Taking time to remember with affection those we have loved and lost – Cliff Burton, Dimebag Darrell and most recently Jeff Hanneman – the show is intended to be digested by a mainstream audience. Dyed-in-the-wool moshers will love it though. O'Neill's description of Slipknot will have pained terribly the lady in the crowd proudly wearing the band's t-shirt, but left the rest of us in stitches. Each of your favourite bands is revered and cussed in equal measure.
The show represents a unique opportunity to celebrate and mock – in pretty much equal measure – the scene we all adore. Go and check it out.
www.andrewoneill.co.uk for more information.