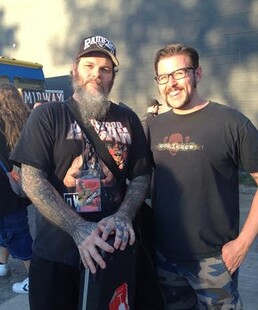 Austin, Texas, is now widely lauded as one of the world's great live music locations. With a seemingly infinite supply of venues and enthusiastic punters, Phil Anselmo and Corey Mitchell last year launched Austin's latest sonic adventure and one catering for lovers of horror movies as well as extreme music. Named in deference to the record label Anselmo runs, Housecore Horror Film Festival brings together the complementary worlds of slasher flicks and blast beats for a long pre-Halloween weekend of nastiness.
This year we have one day at Housecore, which means sadly we miss Neurosis, Portal and Gwar but a packed bill of familiar faces and new names ensures there's no danger of festival malaise setting in.
The event takes place about ten minutes walk from the river and its glamourous boardwalk. While Austin's most motivated jog, cycle and walk their dogs along the banks of the Colorado River, so the atmosphere is initially subdued up at Housecore. With half the hungover attendees still stained from Gwar's messy antics the night before, nobody's rushing things - and who can blame them?
The musical action is staggered across two venues. The daytime activities kick off at midday on a stage set up in the car park of sports bar Midways. The evening sees the party move over to Emo's - a purpose-built music venue in the mould of the Manchester Academy; albeit with more cowboy boots. Between the two venues are scores of vendors selling musical wares, horror memorabilia and complementary goods like guitars and black latex bras. You know the kind of thing.
There's something utterly incongruous about watching bands in an urban car park (parking lot in the local parlance). The skies are clear blue and the din attracts the attention of local passers-by. From time-to-time police patrol cars roll past.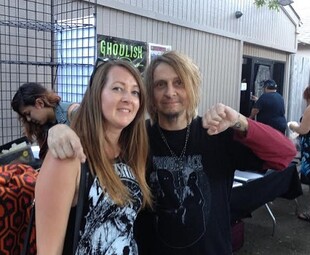 Even more bizarre is the fact that there are men in attendance wearing Pantera shirts sipping bottles of water in lieu of beer. Forget your British preconceptions about festivals being all about booze. It's over 30deg in the sun and the heat is radiating back out of the Tarmac. It's furiously hot and that means hydration takes precedence over inebriation.
The afternoon features a mixed bill, headlined by a one-off reunion (for now at least!) from Superjoint Ritual. Openers Krigblast are local and do a good job of rousing a little interest from the slim crowd but a slot in the midday sun is a tough gig. Things start to get moving with Child Bite. Their latest record having been released on Housecore Records, the band's jagged punk is refreshing and new. Imagine Jello Biafra fronting Dillinger Escape Plan covering Black Flag.
From Child Bite's angular leanings and sense of silliness, Corrections House bring a level of dense bleakness to proceedings that's entirely at odds with the stunning weather. An industrial four-piece fronted by Mike Williams of Eyehategod and featuring Neurosis' Scott Kelly on guitar, this was never going to be ska punk happy. I must confess to something verging between apathy and distress when it comes to industrial music. Corrections House, though, are mega. Kelly's guitar tone is as crippling as ever and his vocals cause the birds to flee the trees: as apocalyptic as you'd hope. The band's set is cut short, to Kelly's very evident irritation, but they make a serious impression, bringing darkness to a sunny day.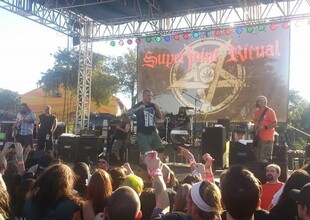 They are followed onto the stage by Superjoint - and to the crowd's absolute delight. Pantera and the NOLA scene have always attracted a very particular level of devotion and the gang bring the house down. A pit erupts the moment Jimmy Bower launches his first riff and it's fists out stuff. One chap takes off his National Rifle Association t-shirt before diving in. Gulp.
Superjoint are note-perfect and Anselmo relishes playing to a home (well, near enough) crowd. One of the world's great frontmen, his vocal chords retain their range, menace and sheer power. He need only to stand at the front of the stage, arms outstretched, to occupy total command of his flock. It's impressive stuff from a quintet of musicians who just know how to riff.
The end of the car park action brings a welcome lull in proceedings and everyone takes the opportunity to catch breath for a few minutes. Scott Kelly is chilling with friends and happily finds time to chat to all and sundry. He poses for photos in his Hulk Hogan t-shirt; nowhere near as intimidating as his vast stage presence would suggest.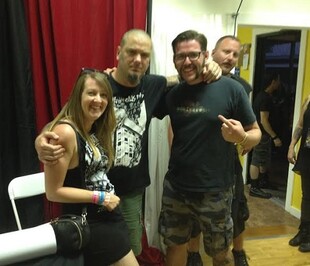 Meanwhile, Superjoint organise a signing session in an adjacent room. The queue is long but British polite. All five band members are in enthusiastic attendance with Anselmo curating everything. Forget any rock star pretensions, this guy wants to fist pump and banter with everyone. The cliche writers say never to meet your heroes. The cliche writers need to meet Phillip Anselmo: he's a legend.
This level of friendliness and accessibility sets Housecore apart from any other event I can recall. Everyone wants to chat and we have some awesome banter with stall owners, organisers, everyone. Mike Williams is hanging out and gladly finds time for a photo before advising us on the best places to watch punk bands in New Orleans. This event isn't about fashion, pedalling a political message or being "on point" about anything. It's just somewhere to celebrate awesome riffs and ludicrous horror films. It's refreshing and fun.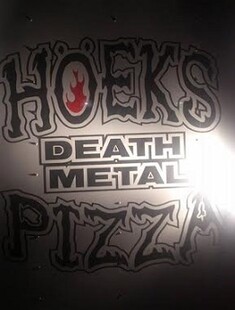 Nowhere is this more evident than Hoek's Death Metal Pizza. A tiny trailer set up outside Emo's, Hoek's is playing Cowboys from Hell over a little stereo when we arrive - and the pepperoni & jalapeno pizza is worth killing for. Hoek plays blast beats with his utensils while our pizzas cook. Only at Housecore.
With the sun setting, the next sonic assault comes courtesy of Ken Mode. "Fresh" from a 35-date European tour with Hark, Canada's finest noise merchants are as unsettling on a big stage as they had been in a Sheffield pub the weekend before. The obvious heirs to a throne vacated many years ago by Deadguy, their rolling, stark grooves upscale with delightful savagery. They've already marked themselves as one of Temples Festival's must-see acts.
From the sublime to the ridiculous: the brilliantly-monickered Warbeast are pure 80s thrash delivered with a welcome swagger. Comprising members of virtually every Texas metal band in history and fronted by a chap who could easily be an Axl Rose impersonator (visually if not vocally), Warbeast bring the party and the people love it. The sight of outrageously hench guitarist Scott Shelby pulling muscle poses at every opportunity adds to the spectacle in the most amusing way.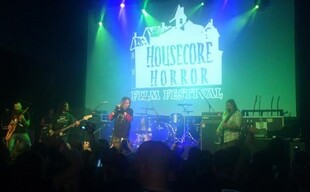 Eyehategod are heroes in this town and welcomed as such. Massive riffs, monster tone and the catchiest grooves delivered with an integrity and conviction it's impossible to emulate. Sludge bands come no finer, nor have faced greater challenges. Whether they decide to come to Europe is moot but on home turf, there's nobody to touch them.
Bringing down the curtain on the weekend is the inimitable Danzig, performing with Samhain. Hitting the stage 20 minutes late, the crowd is now well lubricated and baying for catchy riffs and a metal legend. Danzig is a bundle of leather-clad energy, though his voice may now lack a little of the power it did during his early career. By far the largest crowd of the day sings along, raises a collective finger and parties like it's Halloween.
Sadly, though, there is a cloud to the silver lining of Housecore. On Monday, immediately following the festival, founder Corey Mitchell died from a heart attack. A man regarded with universal fondness, the news will be a body blow for a scene which has faced death, drug addiction, incarceration and hurricane Katrina in recent years. If the festival is to continue, it should prove a fitting legend to Mitchell, who has played a pivotal role in creating something truly awesome.