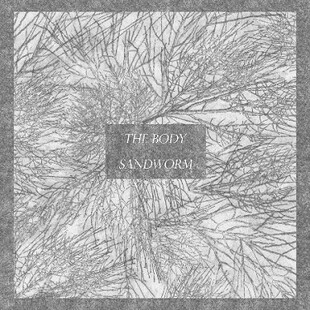 This split LP on Thrill Jockey sees Providence friends The Body (long-established melancholists) and Sandworm (Raw, black metal duo) come together for a towering work.
The Body, known for funnelling in found sounds and unorthodox approaches to metal attack their side with the 16-minute The Manic Fire which manages to combine the blunt stylistic rutting of doom metal with animalistic vocals and some choice electronics which produce a tilted, skewed version of the somewhat one-trick pony the genre can sometimes become. Samples of train brakes, film noir and the ever-circling and unrestrained noise they stir up combine to create an unpredictable and unsettling mass. There's even the genuinely scary shadow of Warp Records weirdness about this. Think 90s Squarepusher or abrasive Aphex Twin territory.
Sandworm's side is stark and cold in comparison. Slightly crust-tinged black metal is always a difficult listen, but these two (aided and abetted by drummer Mindy Stock) create some Norwegian-informed stink that's sayisfyingly unpleasant. Simplistic in a Transylvanian Hunger style, it's presented as if dreamed up on the spot. Spat at you as if composed of bright yellow phlegm the songs rarely reach far past two minutes, but it's enough to get the point, tightly-clenched fists balled up as music. Often tracks simply peter out in jarring fashion as if aware they have done enough damage.
The likes of Fullmoon blister by with such snarling ferocity it's hard not to be impressed.
A record of two equally harsh but focused projects that proves that sometimes sandblasting oneself is sometimes more refreshing.