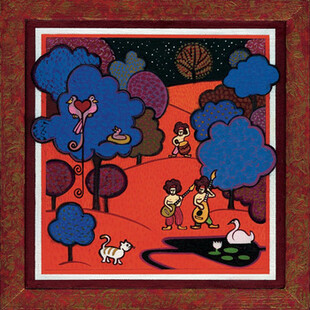 Having been described as Albert Ayler meets The Ramones, picking through the music of Can Can Heads is a task you'd be advised to attempt with no distractions. Annoyingly persistent yet exquisite with it, the music here is as spiky as fish bones and moves with a twitchy, unregulated gait.
If you were desperate for direct comparisons, think of Captain Beefheart and the Magic Band having an argument through improvised jazz truncations, the main crux of the matter being 'what are we playing next?'
At times there's little to no sense made but each instrument unravels its own narrative as the short, but packed songs creep into view. Percussion here is delivered as a backdrop to the dalliances of the bass, sax and disconnected, incidental vocals. Having done this since 1993, Can Can Heads are locked into a gnarled, set groove that's best realised on bursts of complex collaboration like on the jerky but brief Breakdiscodance.
Elsewhere the playing can seem dual-purpose, crazy and out of all reason, but then somehow making sense. If you enjoy the batshit craziness of The Cardiacs or the sun baked eccentricity of Beefheart's more wild moments, this is the head trip for you.
It loses it's way slightly on the lengthy and screechy feedback exploration The Great Depression which drowns itself in noise, but the electronica-fused remix of Salmonella River shows a different side to the Jazz-informed coin. Nuts, but we like nuts.