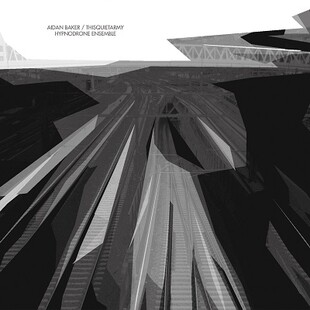 Aidan Baker of Nadja has come together with Thisquietarmy's Eric Quach several times for projects, but this is perhaps the most bold and ambitious yet.
Gathering the talents of three drummers, Felipe Salazar (Caudal, Muerte En Pereira), Jérémie Mortier (Alice in the Cities, Lady Shot from a Tree), and Dave Dunnett (Man Meets Bear), the Hypnodrone Ensemble came together in Berlin to record this huge-sounding piece of work live before an audience. It's recorded and mastered to perfection of course by the ever-reliable James Plotkin who captures the vortex-like intensity on offer.
At times wandering aimlessly with no form or structure, where this sprawling art works best is when they lock into specific grooves. At around ten minutes, the first of these machinations occurs and the true potential of this line-up is realised. Polyrhythms clatter over one another, with the trio of percussionists sometimes playing the same beat and at others exploring their own patterns. With the two masterminds of Quach and Baker providing a flange-heavy and mystic-sounding accompaniment, it has a raga-like feel to it that recalls Bjork/Sunburned Hand of the Man drummer Chris Corsano's mind-melting duo with Mick Flower of Vibracathedral Orchestra. That same euphoria emerging from truly free jams that rival jazz ensembles for unbridled expression is a wonder to behold. At around fifteen minutes, a whirlwind of cymbals finally gives way to calm and it's not unlike the odd calm that follows heavy rain, drops of water rolling off leaves and the sound of car tyres rolling through fresh puddles.
Before long it settles and returns to a grouped sense of thought, the mesmerised percussionists again bringing focus to the never-ending drone soundscape.
This transforms into a Neu!-like motorik psych-drive almost as if from nowhere at around 28 minutes into the 40-minute playing time. It's all hi-hat flourishes and stripped down snare and bass work providing yet another framework for the imaginations of all five involved to run riot.
Truly a fantastic piece of work and one that possibly merits more recordings, let's hope they repeat this feat again soon.