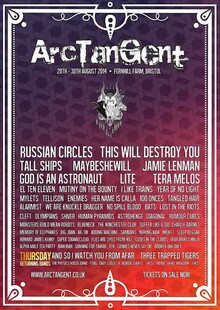 Having blasted open the festival scene last year with perhaps the first festival concerned with post rock and bands of a more instrumental bent, ArcTanGent Festival 2014 has a lot to live up to. We headed there with big expectations from an even more packed lineup than last time and have to say that despite the rain, the festival was again one of the best weekends of the year.
Thursday
With early entry on the Thursday evening meaning a repeat of bands from last year, it was a great chance to warm up for the weekend. With miniature-sized cans of Piston Head craft beers strapped to our persons, we headed in to catch Nordic Giants. For those who are uninitiated, this Brighton duo use films to bolster their incredibly ambitious strains of post rock, often meaning videos they use are synched up to the clash of drums, keys and guitar as well as some epic vocals. Last year's performance saw them taking to a darkened stage with a live vocalist and blowing everyone away.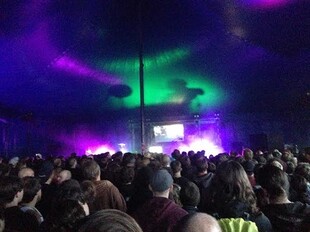 Sadly, this year was a bit of a let-down. Using the same screen they have been fantastically using to great effect over the last year in smaller venues, many simply missed out on the visual element thanks to its diminutive size on the stage. Chinese whispers that the band had built a special set also proved false, meaning a sense of disappointment for many. A fantastic band in what seemed like a mis-fire. Having seen them several times recently, it's possibly time for a new approach.
The sounds of Three Trapped Tigers last year jarred slightly on the main stage thanks to a set in the mid-afternoon sun. In the dark of the Yokhai stage however, it takes on a crackling, danceable quality and the crowd are moving in time to their eccentric, electronics-drenched patterns. The band's drummer Adam Betts is undoubtedly the star,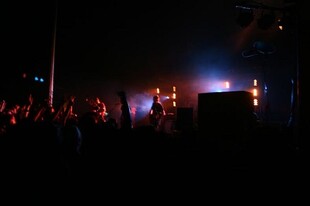 relentlessly pushing the trio forward, their million-notes-a-second hitting home sure and true.
And So I Watch You From Afar were one of last year's highlights and prove why in their headlining slot. With so many electrifying songs, they simply tear the tent apart. The tent is actually straining at the sides during their set, which suggests the early entry has proven more popular than the organisers first considered. This can only be a good thing.
Friday
Bleary-eyed people are grabbing coffees and breakfasts, but for those who've not had their frosties, Alpha Male Tea Party are waking people up with some questionable see-through onesies and some Kellogg's variety boxes of cereal thrown out into the audience. Except the one that gets cobbed by the drummer and ends up sitting in the lighting rigging all weekend. That's the most famous box of cereal ever now, surely? AMTP's music is a mathy, twitching delight and it's some masterful planning from the organisers as it's a great way to kick off the day in energetic and playful style. They leave the stage sweaty and triumphant, just fucking great.
To have that initial jolt, watching the much more restrained Suffer Like G Did immediately after is like crashing back down to earth, but it's not in a bad way. Their light, jazz-informed post rock is quiet, delicate and beautiful. In a contrast that is repeated all weekend, you couldn't hope to find a more disparate billing if you tried. Their drummer even throws in a complex solo that doesn't bore people, so full marks for that. All this and it's barely past noon.
Monsters Build Mean Robots are one of the highlights of the weekend, a discovery for us, comparisons to Sigur Ros come thick and fast, but they have a folk-tinged bent too. Their strings, keys and group vocals lend the whole set a magisterial style, with some songs silencing the crowd into a hushed awe. Dressed as if playing the coolest wedding ever, they certainly made an impression. Similar in scope to Leeds' Tomorrow We Sail, we can't wait to digest their recorded material.
Rumour Cubes are the most rag-tag bunch of people we've ever seen grace a stage together. We caught up with their bassist at a bar later on in the festival and he claimed they all met through Gumtree, but their lack of collective identity evaporates through their musical synchronicity. Strings-heavy, their post rock is far from by-numbers and creates a maelstrom of emotion from the off. Visibly chuffed to be there, these are ones to look out for, standing out as an instrumental band among about fifty similarly vocal-eschewing bands is no mean feat.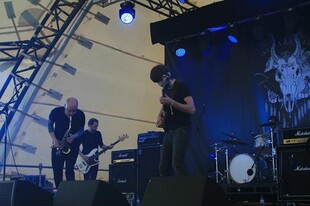 Diagonal are fantastic, don't get me wrong, but their dark, folk-tinged and sax-heavy jams somehow feel stilted in the sunshine. A band who suit the dark, sweaty confines of a late-night bar or fleapit venue, it loses something in the light of day. With their sound spindly at times too, it's unclear if the audience are feeling their dark, exploratory music quite as much as they had hoped. Good, but not great today we're sad to say. Check out their album The Second Mechanism for a taste of what they truly sound like when firing on all cylinders.
Bats are fucking brilliant (seriously, that's it).
The crowd are pouring out of the sides of the Bixler stage to see 100 Onces and with good reason. Two people rarely make such a mash of noise as these, running the gamut from Lightning Bolt-esque sections of sludgy grumbling to straight-up grind parts which bring to mind old bands like Haymaker and the blunt trauma of Blood Duster or Agoraphobic Nosebleed as well as cleaner mathy parts which mean the whole set is a mindfuck. The guitarist/vocalist even manages to smoke a cig and crowdsurf without missing a note. Brilliant.
Ef are the only band that bore us all weekend, their clean and predictable post rock is a little derivative and we're left looking elsewhere for entertainment. The Somerset cider at the bar won this round we're afraid.
Crippled Black Phoenix come on to a hero's welcome. The vehicle for Justin Greaves, stoner and doom superhero, it could well be all about him. Not so, their songs rest on the shoulders of all the members, winding their way through metallic elements as well as stoner rock and more folky jams which get the crowd involved. You had to feel for their keyboard player, who seemed to be suffering with the cold wind, she was physically shivering.
The legacy of This Will Destroy You continues unabated, such massive sounds from such whisper-light passages means their set elevates the whole festival into a euphoric masterpiece. We can't get enough, with the band apparently having strived to record their last album under intense stress and pressure, they proved they are still incredibly relevant with new tracks standing up alongside classics like The Mighty Rio Grande perfectly. Astonishing set, really.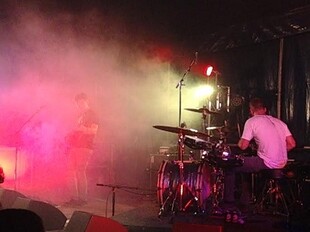 Wandering back to the tent, the Bixler stage's sound drew us in with the incredible riff gymnastics of El Ten Eleven whose double-necked, chiptune-esque delights impress absolutely. The drummer uses a part-electronic, half normal kit to create some triggered percussion that has the whole tent dancing. Just amazing and one of the definitive moments of this year's festival.
Russian Circles mean business and create another definitive set. Playing an extended selection of their entire discography, the white light that bathes them, highlighting the ever-increasing rain that's now coming in sideways under the Arc stage only serves to make it seem that much more mind-blowing. Cheers greet the start of every song and their lack of any stage banter means it's a music lovers' set for sure. Their heavy sections are pummelling, punishing steamrollers and their more delicate sections are just a revelation. No points for the douchebags talking over the whole thing next to us though, nobody cares how much weed you've smoked this weekend, fuck off.
Saturday
Ninehertz fave and Ex-Hangnail and End of Level Boss chap Harry Armstrong is kicking off the day with his cello-dominated outfit The Winchester Club who seem already settled into their set on the Arc stage when we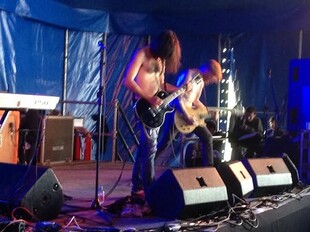 arrive. Slow and hulking, it isn't the best way to wake up, but it's captivating nonetheless. Moody and deliberate, the songs move in elegant, droning passages not unlike Earth at their most country-like. Will be checking out their recorded material for sure.
If you want to tell a hangover to go and do one, Astrohenge are your cure. Psychedelic and electrifying, their brand of fast-forward doom does wonders for the assembled throng. A keyboard player wrestling with
two instruments and his pedals is doing a lot of the work, but the two topless guitarists are pretty raging too. Their music washes over you like a spiky flood, all widdles, big gestures and a lot of fun. Can they come back next year please?
Irish synth botherers No Spill Blood are similarly frantic, the three-piece combine some stomping bass frequencies with some crushing analogue noise to create a set that's heavy and unrelenting. The amazing amount of bass on offer shakes the ground.
Hark are another festival highlight, heavy, tight and full of passion, you could almost forget lead singer/guitarist Jimbob Isaac's former band Taint even existed. Songs from their debut album Crystalline sound fat and the crowd are nodding along straight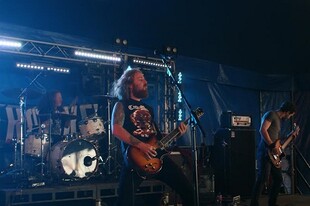 away. Introducing heavy bands into the mix at ATG has worked in the past and this is possibly the best they've done so far. Amazing!
Fen are no less heavy but fare less well than Hark, their windswept folk-tinged black metal works well on albums like Epoch but live, it lacks any sort of dynamic, the buzz of the guitars never changing volume or style and the overall sound devolving into a mush of fuzz means it's not that engaging.
I gather a lot of people like Jamie Lenman. Can't say I'm one of them.
Bear Makes Ninja however kick a hole so massive in our collective arses that to put them on the PX3 stage seems cruel. Those who have filled the stage are rewarded with a genuinely amazing set from the Sleaford three-piece. What hasn't there been said about Krim Lawrence's drumming? It's incredible and underpins their pop punk via metal-esque mathy sections perfectly and all three members are grinning ear to ear throughout. In what felt like the most important set of the weekend, BMN proved they have what it takes to kick a festival crowd into a frenzy. More please.
Going from the upbeat and posi sounds of BMN to the desperate and bleak Year Of No Light was a jarring experience, but the French troupe have a way of getting under your skin as ever. This is the best set we've witnessed them perform, their crushing, malevolent sinkhole sound gets the crowd drawn in early and they don't relent. This is what ATG is about, appreciating a whole myriad of styles, where else could you see two bands so different proving a hit one after the other?
God Is An Astronaut are incredible tonight, their live show includes newer, electronica-laced songs as well as old classics. The band themselves seem equally euphoric onstage and the crowd are into it in a big way. One of the most un-trumpeted post rock bands of the last ten years, it's great to see them getting the recognition they fully deserve.
Lite create one of the most danceable sets of the weekend in closing the Yokhai stage. With a relentlessly upbeat style, their music evokes great reactions from another swelling crowd, the front of the tent is jumping and the songs they seem to cram in are hypnotic and are a great way to draw a weekend to a close.
Like many others, we chose to soak in the sound of Mono sat down glugging cans of beer on camping chairs set back from the Arc stage. Playing famously long sets and being so incredibly epic, Mono are certainly a band to drink in. Their music is slightly formulaic, but what they do, they do incredibly well. Building up calm and quiet sections to intimate and tension-filled heights before crashing forth with blistering and deafening climaxes means they are the perfect band to end the weekend. The light show they also have strikes out into the surrounding night, looking for all the world like ghosts escaping into the cold air.
ArcTanGent, you are a wonderful, friendly and captivating beast, we can't wait to visit again.