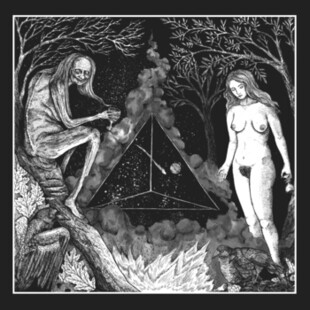 Black Monolith have come around to me just at the right time. I've never been able to get into black metal, despite having tried a few times unsuccesfully. Yet recently, with the likes of Wolves in the Throne Room and Deafheaven breaking boundaries, and more pertinently with bands who infuse the black into their doom (or vice versa) I have found an 'in'. And with releases from the likes of Mantar, Rorcal, Hexis, Oathbreaker and Bast, in the last year alone, I've got hooked and am looking for more.
Black Monolith, like those mentioned above ride a mature, bold and adventurous wave of thoroughly modern extreme metal, the cataclysmic claustrophobic wall of noise where black metal meets doom, punk, hardcore and post metal, creating grand threatening attacks on your senses that can blow your ears back and sweep you along in huge swathes of adrenaline and emotion.
Like on the Mantar record, the differing styles aren't necessarily concocted together, rather reflected individually in neighbouring tracks, leading to some surprising change ups that feel like you're listening to a label compilation at times, yet never jars and actually warms on you on repeat listens. The transition from the brilliant opening Intro/Void, which prepares you for a Sunbather style epic journey, to the following Dead Hand, all dirty crust assault, illustrates this at the first possible opportunity.
Adhere does attempt a blend, a strange mood of the fast paced extreme metal that sounds incredulously uplifting in moments. Victims and Hangmen returns the punk air, a reminder of the doomy roll of Okkultokrati, while the closing Eris is, in context, ridiculously posi post-rock, with riffage that carry with them a mood of hope and optimism, to end the album on a refreshed stunning high.
Another outstanding addition to the growing revolution of sound, and indicative of exciting times to be discovering new music in.