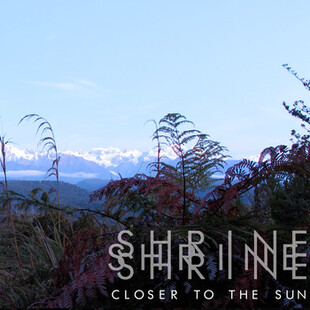 Brighton's Shrine are one in a long line of fantastic bands that Mountains of Records' Dan Atkinson has unearthed with his keen ear. With the likes of Blind Wives, Former Monarchs, Bear Makes Ninja and more in tow, it's fast becoming a mark of quality. Those who have caught Shrine on their pre-release shows for this EP will attest to the sheer steamroller-style power the band hold.
Closer To The Sun is the first part of a double EP to be released in two parts this year and it's probably worth the band doing it in this way as the three tracks here on Part I show a band full of ideas and how to execute them, meaning an extended listen would probably mean tracks getting lost in the melange due to the long-playing, complex constructs they offer.
Comparisons to the likes of Tool and Mastodon hold true, however there's something to be said for their individual style here. Sounding not unlike 90s alt-metal stuff which got lost under the flabby, long-trousered death of nu-metal, there's nods to the likes of Botch and early Dillinger Escape Plan here without fully ramming the stop-start math element down your throat.
Vocalist Will Gardner's pipes deserve a mention here, with such a diverse range, he seems comfortable in delivering both atmospheric quieter sections as he is at screaming every word with raw emtion like at the crescendo of Say You Will or at the very beginning of the epic, seven-minute title track.
The title track in fact is probably a great way to sum up the band's sound, with delicate almost-acoustic sections sparring with mathy, stuttering sections of mosh-worthy aggression with more soaring, anthemic parts which make Shrine an unpredictable treat. The Mark Roberts production and the Randy Merrill mastering also lift it to speaker-busting levels of punishment too. Out on April 7th, it should prove to be the start of something quite big.