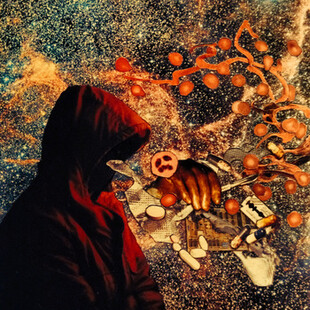 Just look at that cover image, woah. There's no face displayed on that cloaked figure's face but I'll be damned if I didn't think it was looking straight into my soul.
Ok, the music, think about the music. It's been touted as 'murk' among other labels and that word sums it up. Low, hanging notes and a dark, smeared sound, it brings forth memories of that once-popular genre of funeral doom, but sped up. Jeremie from Dead In The Woods/Beast As God is on vocals here but uses a clean tone clusterfucked to space with the use of delay pedals and he noodles endlessly on a theremin, making the whole process spaced out and Hawkwind-like in parts.
Guitars and drums are courtesy of ex-Army Of Flying Robots Andy and Henry respectively and bass duties are handled by Tanya of Bismuth, who is also ex-Diet Pills, so you get the dark, feedback-enriched corner this band come from. During tracks like Mechanique Celeste there's periods of relative calm but it's soon dragged back into a dirty, tar-pit like sticky drag. Jeremie sounds as though he is proclaiming the end times through a megaphone at times, you can imagine them playing this to confuse people in the event of a riot.
Lyrics on the doom-like Antenna Collapse talk of the 'digital noose' and similarly misanthropic topics all while the guitar and bass create a swirling thick goop. you can imagine at the centre of this particular maelstrom there is no hope, only emptiness. It's really rather profound and original, listen, because soon there's going to be nothing left.