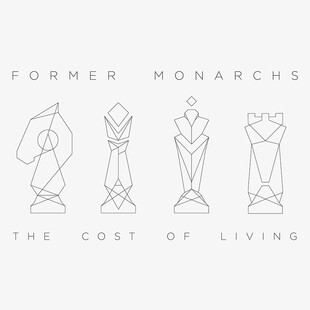 Former Monarchs are an Irish four-piece and this is their debut, but it's been a long time coming; the band having been together and gigging since 2011. Coming at you with all kinds of diverse influences it's immediately hard to tell where they got their various ideas from. A sound that is strangely equal parts melodic in terms of subtleties and vocals, but massive and battering with its overall delivery this simply sounds beautiful. To call it post hardcore seems a little limited, this is almost sickeningly great.
Take the nuanced start of Armour for example, shimmering guitar collides incredibly cleanly with their honey-sweet vocals, which are also multi-layered. These bring to mind an unusual comparison in their staggered and conversational delivery in the form of Katatonia's Viva Emptiness where vocals were recorded in a deliberate cadence and style to sound like unplanned speech and the soft feel of lyrics here echoes that wonderfully. It's certainly intriguing and combining this with some distant and creeping electronics is a nice touch.
Support slots with bands like And So I Watch You From Afar and Fighting With Wire have obviously had an influence here, they carry the fervent, wriggling energy of the former and have the fuzzball spirit of the latter. But where Former Monarchs triumph, and we don't use that word lightly, is in their vocal delivery. The two dominant voices are almost too well matched, meaning you get a clinical feel from both the instrumentation and the more smooth lyrical elements. Every track brings forth new ideas.
The trip-hop informed Home showcases this further, not to push this particular element too much, but there's a definite charm with the vocals here that demands repeat listens. The more breathy electronics that creep in too, the more it brings forth flashes of current live scene darlings Nordic Giants, it has that melancholy, yet beautiful delivery to it, without dropping off the edge and becoming sickly sweet.
They even out-prog most contemporaries with the whirlwind dervish of Battlelines which chops and changes at the drop of a hat, one moment they are out-glockenspieling Godspeed You! Black Emperor, the next reaching for Mogwai's thrashing post rock guitar torture sessions. not many bands can jump from sound to sound with such aplomb can they?
45 minutes doesn't see long enough frankly, can we have more please? This review needs to stop here, I've said enough.