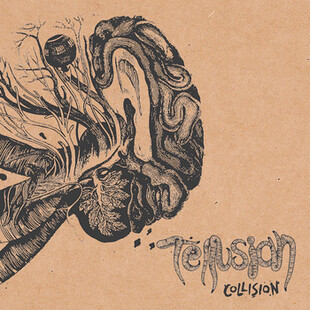 This Swedish force for pissing you off comes from ex-members of the excellent Crowpath. If that doesn't mean much to you, think elaborate and intricate grind with a crusty, erm, crust?
For those of a grind-loving bent, this will be a welcome release anyway but for those not used to the often face-breaking sound that this genre carries, Tellusian may well be a great way of easing yourself in, like lowering yourself into a red-hot bath when you're used to showers.
It's ten songs in under half an hour, ranging from the widdly and highly tech (The Collyer Brothers) to the more straight-up (Wolf In Sheep's Medicine) but all delivered in a raging, yet somehow catchy way. The juddering delivery is like a tour van going over a rough road, making your fave Brutal Truth album skip, but in a good way.
Within two minutes, they accomplish more than most bands attempt in a whole album. It must be rewarding to know how much is rammed into these intense, complex compositions. This is thickened, concentrated grind, not a snare crack out of place, not a vocal expulsion mid-fired. Getting your head round this in one listen is simply not possible. It strides up to you, all prepared rage and knowing exactly what it wants to say, demanding, nay, screaming repeated listens.
There's even room in here, if you can believe it, for a fucking cello. The title track contains low-end string work here combined with some pretty meaty synths that mean it is elevated into a hulking epic to close proceedings.